Cranberry meatballs may just be the ideal holiday party appetizer. The BBQ sauce for these meatball appetizers is made with cranberry sauce and chili sauce. While the pictured version is finished in the oven, these meatballs can be just as easily completed in and served from a crock pot if you prefer.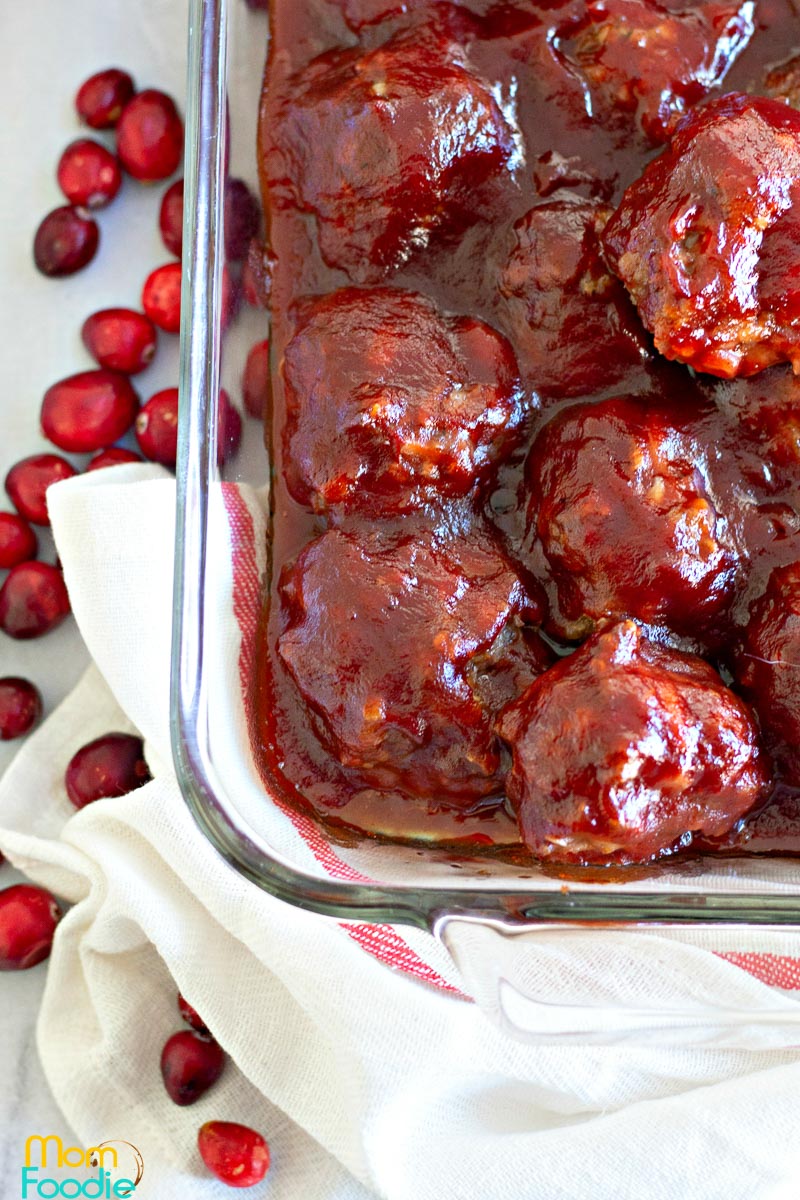 Cranberry Meatballs
This recipe is a holiday twist on the classic grape jelly BBQ meatball appetizers that have been popular for decades. Guess what? They are even better with cranberry sauce!
Not only are these meatballs a fabulous holiday party appetizer, they are also a great way to use up any leftover cans of cranberry sauce.
Holiday Party Food
Directions are included both to finish these meatballs in the oven or the slow cooker. If you want to leave them out for an extended period of time, I suggest the slow cooker.
Festive Easy Dinner
If you want to serve these cranberry meatballs as a dinner, that can easily be done.
Make meatball sandwiches on small sub rolls or sliders on Hawaiian dinner rolls.
Serve over rice with a side of sauteed vegetables.
They would be great with some potato salad or macaroni salad too, particularly on one of those nights when the family has to eat at different times.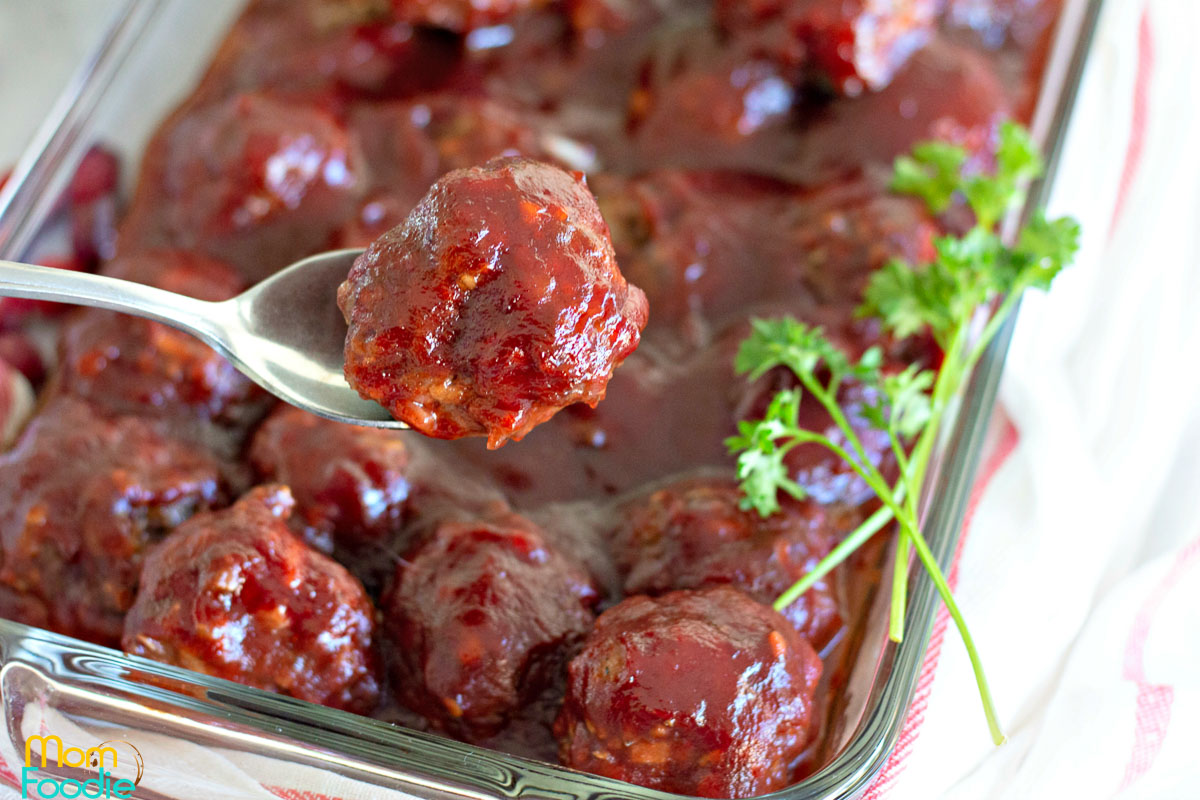 How to Make Cranberry Meatballs
Here I'll guide you through the easy preparation of these meatball appetizers in cranberry bbq sauce.  Feel free to jump down to the printable recipe card if you prefer.
First, here is what you will need to make the cranberry sauce meatballs.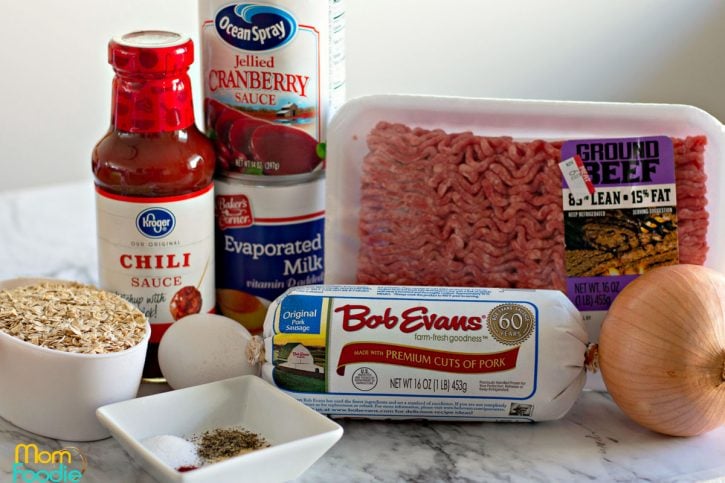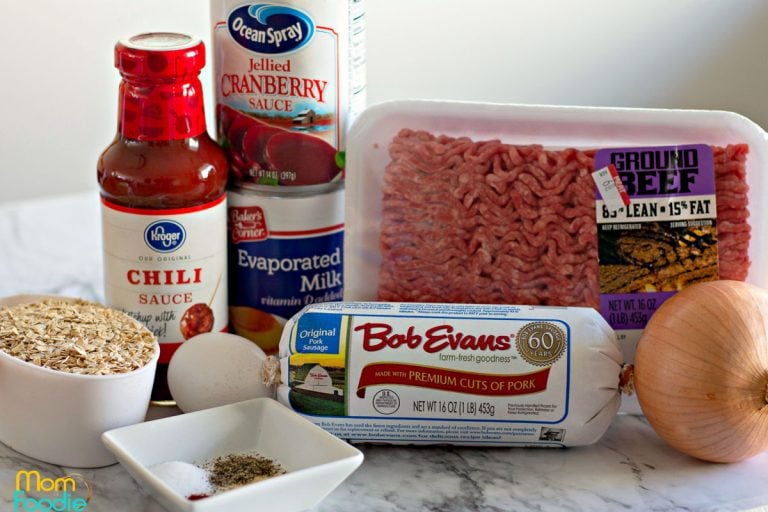 Meatball Ingredients:
1 pound extra lean ground beef
1 pound mild country sausage
1 cup quick oats
1/2 cup finely diced onion
1 egg
2/3 cup evaporated milk
1 teaspoon salt
1/4 teaspoon ground black pepper
1/4 teaspoon garlic powder
1/2 teaspoon chili powder
Cranberry BBQ Sauce:
14 ounce can jellied cranberry sauce
12 ounce bottle chili sauce
2 tablespoons brown sugar, packed
Preparing
Preheat the oven to 350 degrees F and coat a baking sheet with non-stick cooking spray (a sheet of parchment paper can be used instead).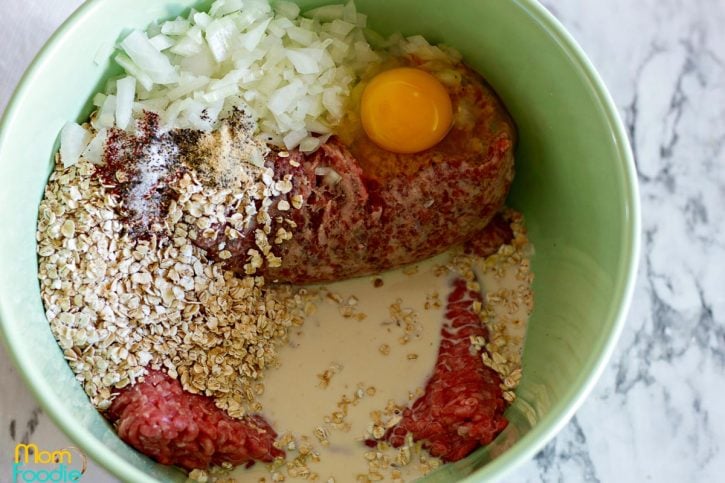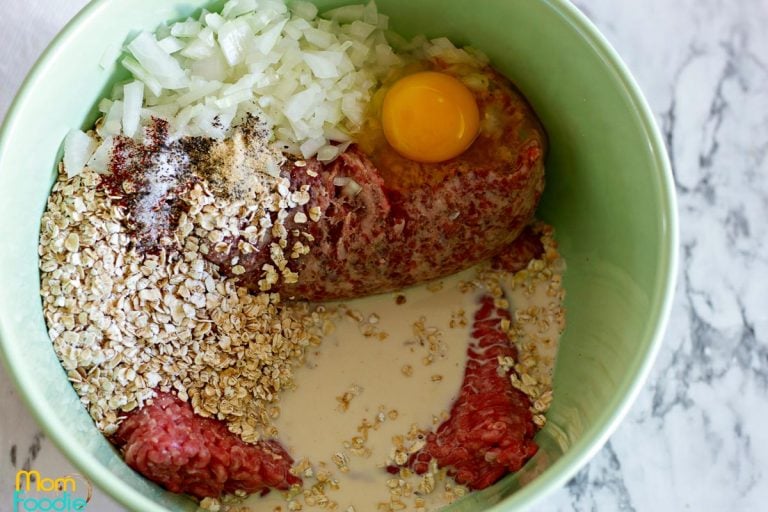 Combine all your meatball ingredients in a large bowl and mix well. This is best done with your hands. Wear gloves if your squeamish.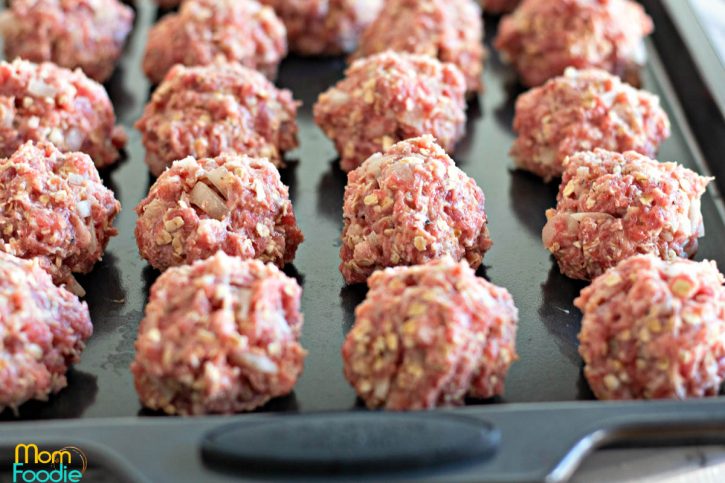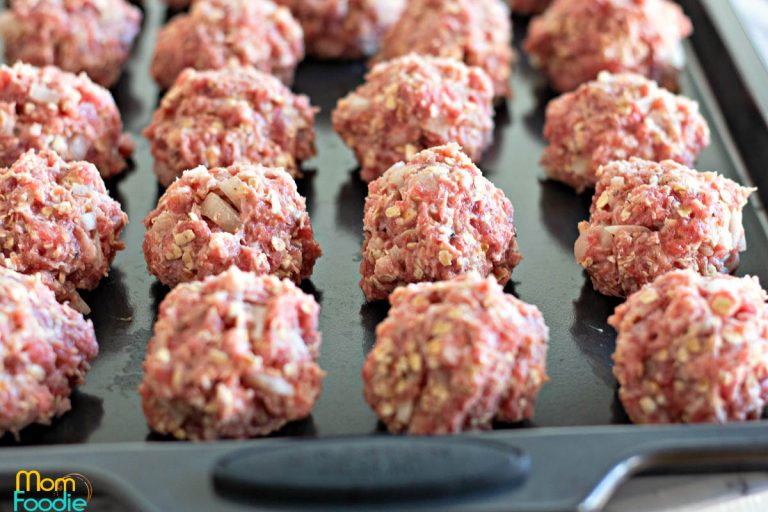 Form your meatballs into roughly 1 1/2 inch spheres. Place them on your prepared baking sheet. Bake the meat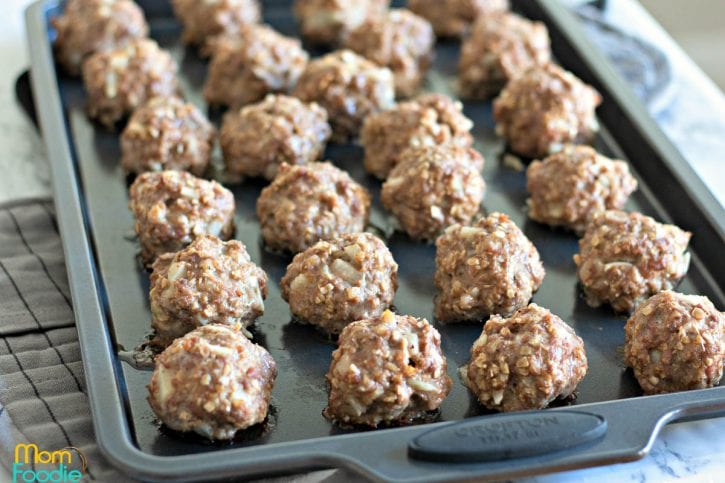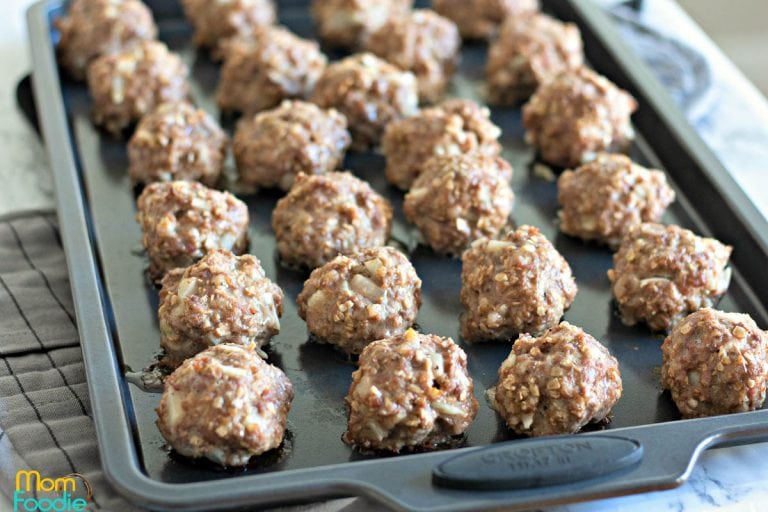 Bake the meatballs for 15-20 minutes, until browned and cooked through.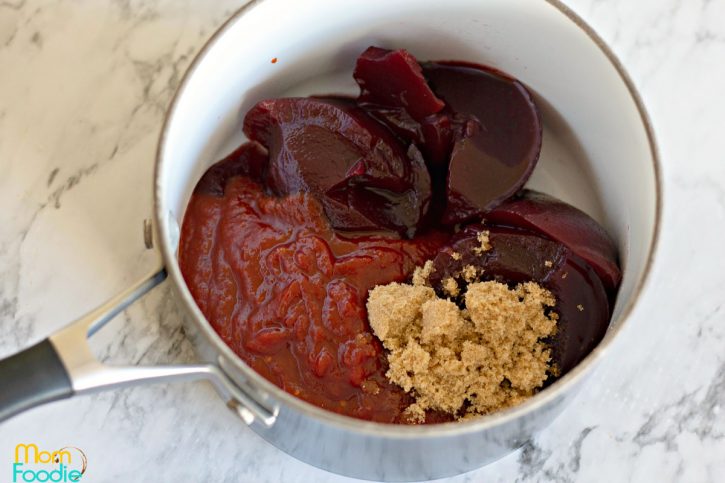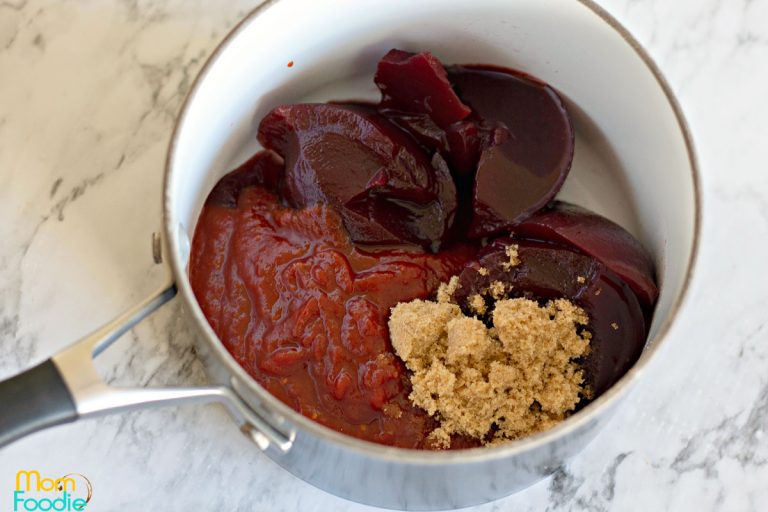 While you are baking the meatballs, prepare the cranberry barbecue sauce. Start by dumping all your sauce ingredients in a sauce pan. Then put over med-high heat until it starts to bubble, then stir, reduce heat low and cover. Simmer for about 10 minutes. Stir frequently.
If you are using a crock pot, these sauce can be prepared right in that.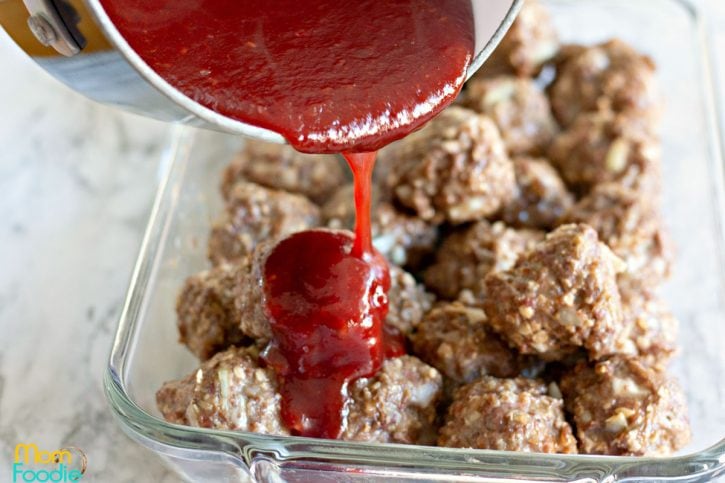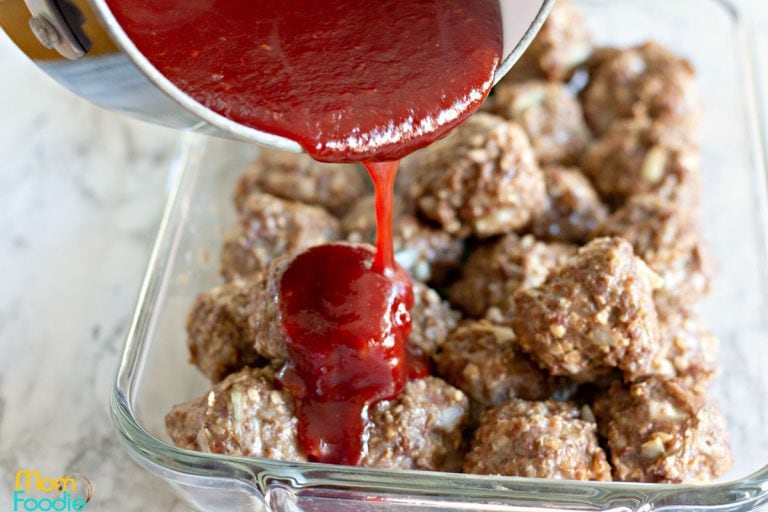 Move the cooked meatballs to a large baking dish (9×13) and cover with the sauce.
For crock pot it is probably best to scoop at least some of the sauce into a bowl before dumping the meatballs in. It will make ensuring they are fully coated with sauce easier. The less stirring you do with meatballs the better.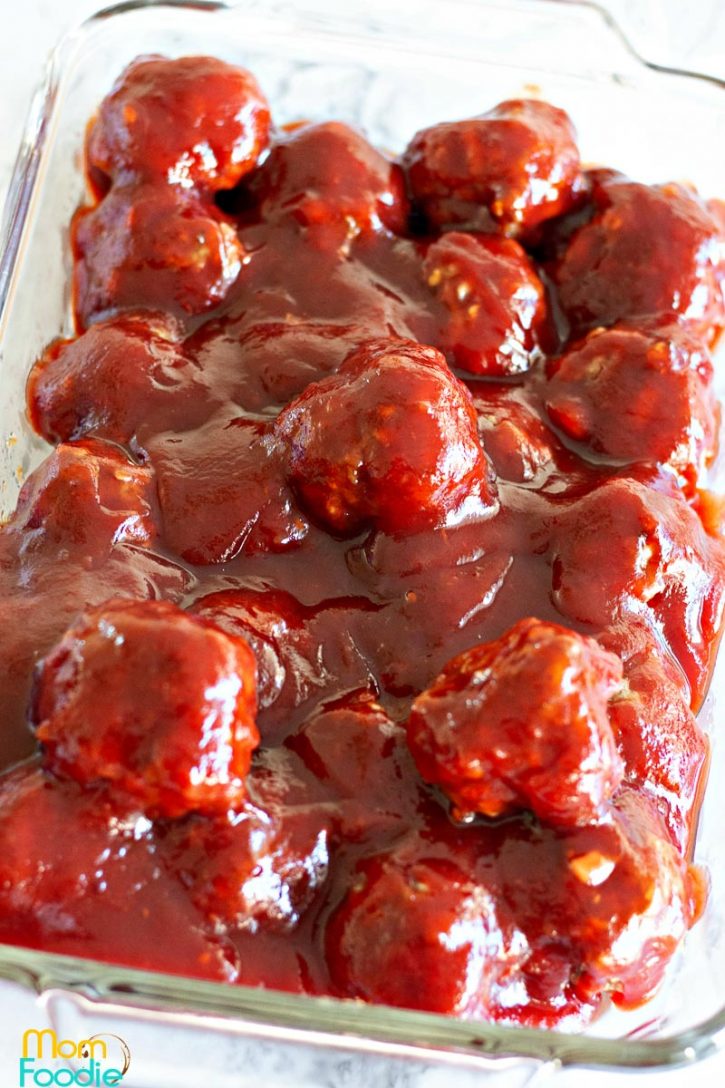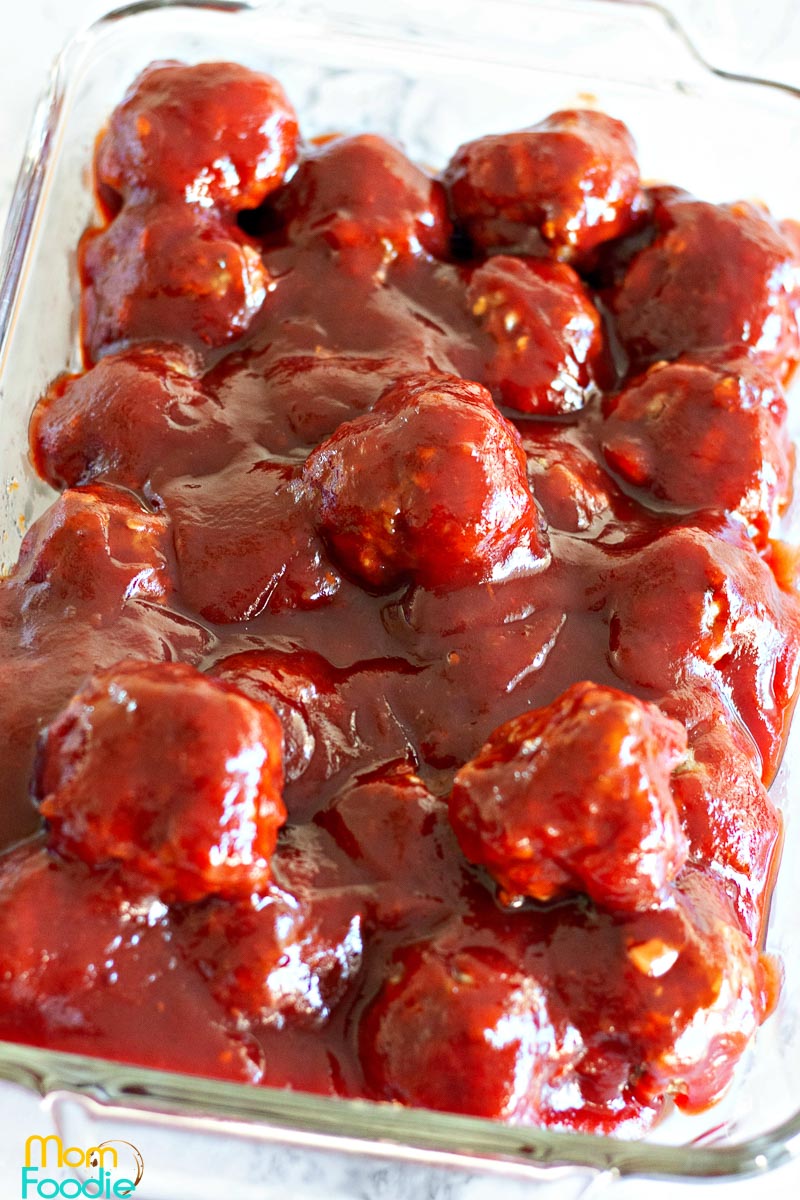 Bake the meatballs at 350 for 10-15 minutes or simmer in the crock pot for at least 30 minutes (gently stir occasionally).
Feeling Lazy?
By all means if you don't have the time to make the meatballs from scratch, use frozen meatballs.  Cook them according to directions then add the sauce and cook together as I have here.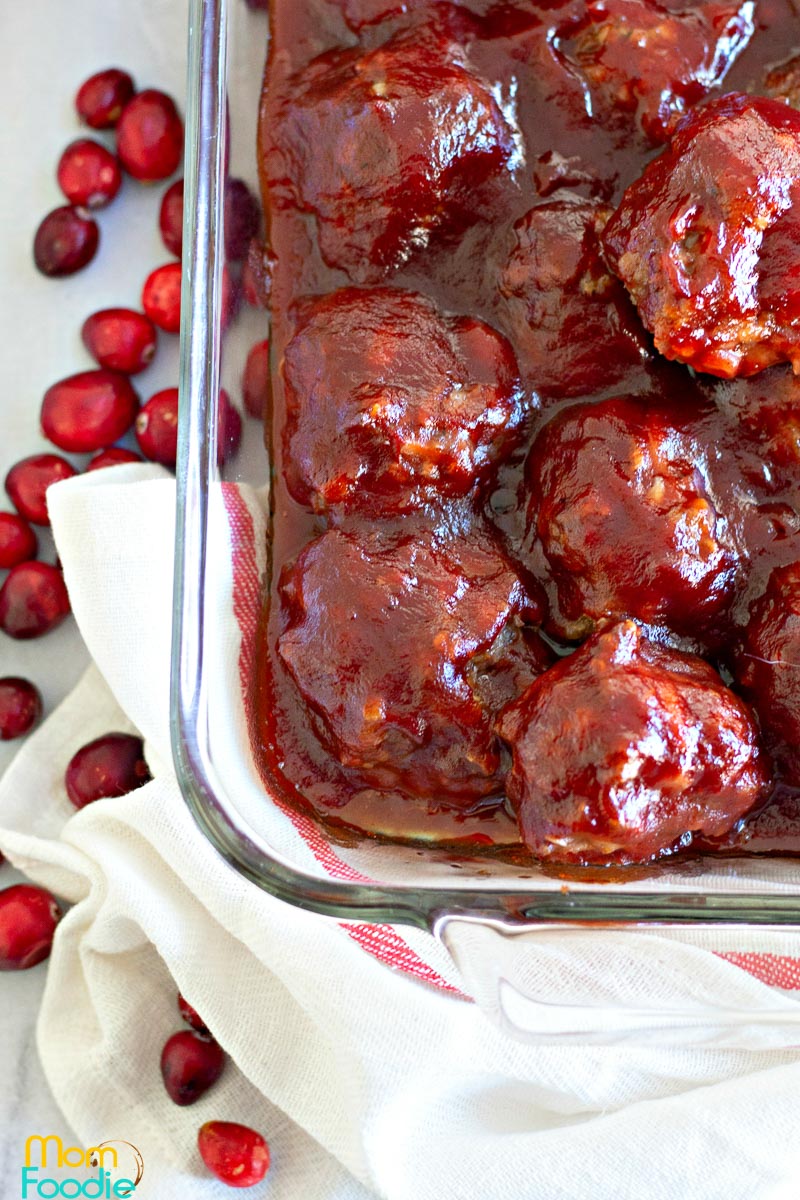 Ingredients
Meatballs:
1

pound

extra lean ground beef

1

pound

mild country sausage

1

cup

quick oats

1/2

cup

onion

finely diced

1

egg

2/3

cup

evaporated milk

1

teaspoon

salt

1/4

teaspoon

ground black pepper

1/4

teaspoon

garlic powder

1/2

teaspoon

chili powder
Cranberry BBQ Sauce:
14

ounce

can jellied cranberry sauce

12

ounce

bottle chili sauce

2

tablespoons

brown sugar

packed
Instructions
Preheat the oven to 350F.

In a large mixing bowl, combine the ingredients for the meatballs. Shape the meat mixture into 1 ½ inch balls and place on a large baking sheet greased with non-stick cooking spray. Bake the meatballs for 15-20 minutes at 350F until browned and cooked through.

While the meatballs are baking, prepare the cranberry BBQ sauce. In a medium sauce pan, combine the ingredients for the sauce, then cook over medium heat until the sauce begins to simmer. Cover with a lid and simmer on low for 10 minutes, stirring often.

When the meatballs are finished baking, remove them from the baking sheet and arrange into a 9×13 inch glass baking dish. Spoon the BBQ sauce over the meatballs.

Bake the meatballs at 350F for 10-15 minutes.
Nutrition
Calories:
77
kcal
|
Carbohydrates:
7
g
|
Protein:
4
g
|
Fat:
3
g
|
Saturated Fat:
1
g
|
Cholesterol:
17
mg
|
Sodium:
218
mg
|
Potassium:
105
mg
|
Fiber:
1
g
|
Sugar:
5
g
|
Vitamin A:
78
IU
|
Vitamin C:
2
mg
|
Calcium:
15
mg
|
Iron:
1
mg