Wondering what to do with all those leftover Easter eggs and ham? Make an Easter Sandwich!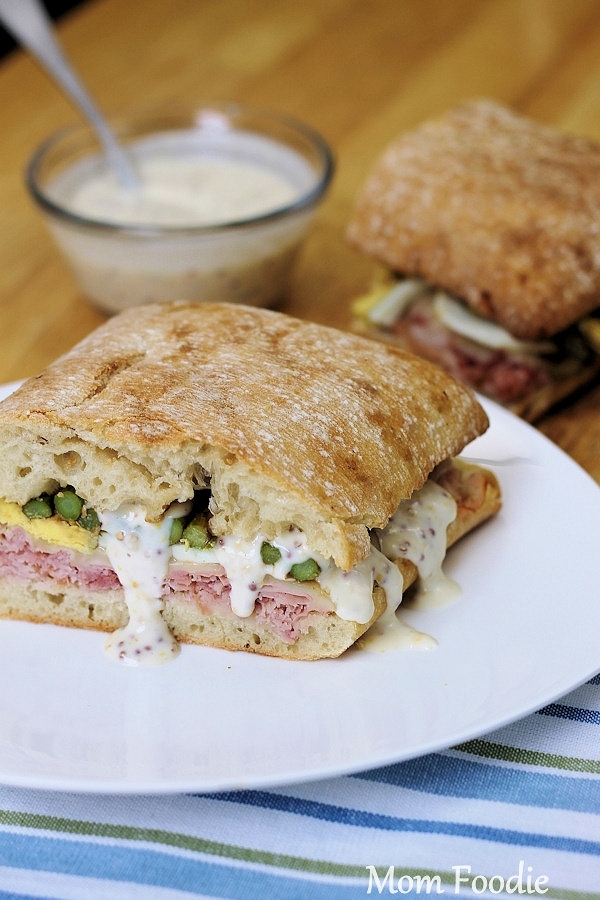 Easter Sandwich: Move over Thanksgiving, now Easter has It's own Sandwich
When most people think of post-holiday sandwiches, turkey, stuffing & cranberry sauce come to mind.  While this now iconic sandwich is certainly delightful, I beg to say, Easter leftovers can make for a worthy rival ... introducing the Easter sandwich.
After Easter dinner, many families are left with an overwhelming bounty of colorful boiled eggs, and a large quantity of remaining ham.  Here, I've teamed these two common leftovers with asparagus ( baked asparagus or grilled asparagus), which plentiful this time of year, and served it up on a freshly grilled Ciabatta, with Swiss cheese and a Buttermilk, Horseradish and mustard sauce. The combination would work for any mealtime.
I chose Ciabatta bread to use in this recipe.  It crisps up so nicely with a quick grilling.  Conveniently, it is also exactly the right size for Swiss cheese slices.
Making An Easter Sandwich: Leftover Easter Eggs and Ham have Never Been so Delicious!
The Easter sandwich makes use of those leftover Easter eggs and ham along with seasonal asparagus and is topped with a delicious Buttermilk-Horseradish Mustard Sauce. The best part is it's prepared outside on the grill so you can enjoy the nice spring weather. Full recipe below.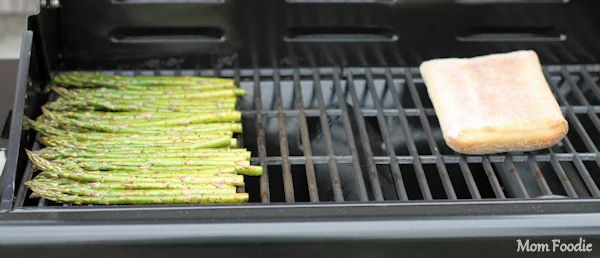 Ciabatta bread crisps up on the grill, while the asparagus finishes cooking.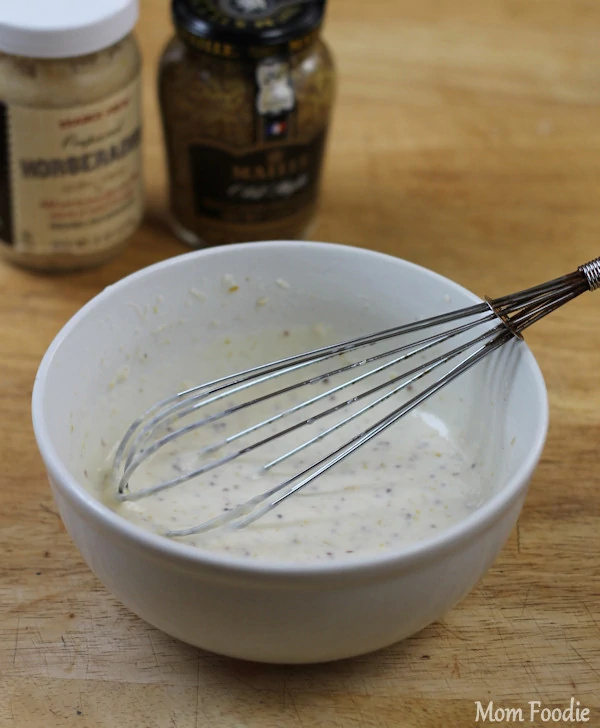 Buttermilk Horseradish Mustard sauce is quickly whisked up while bread & asparagus are on grill.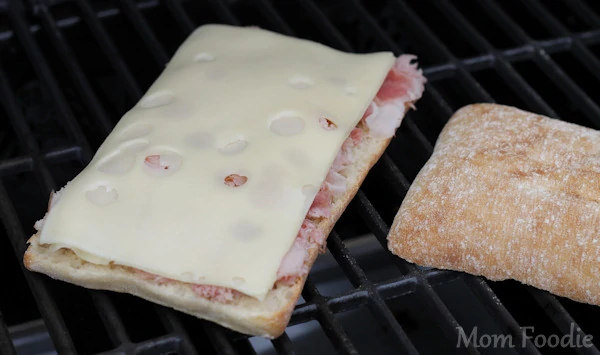 Warm the leftover ham, melt the cheese & crisp the inside of the bread on the grill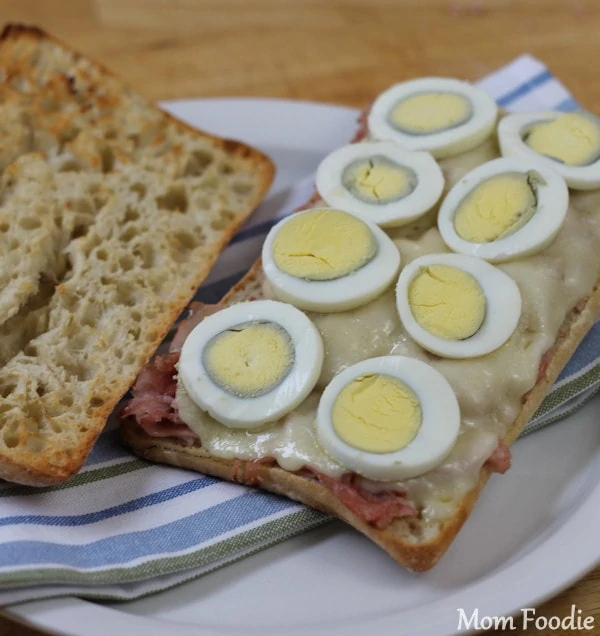 Top with sliced leftover Easter eggs. There are always plenty of those around after the holiday.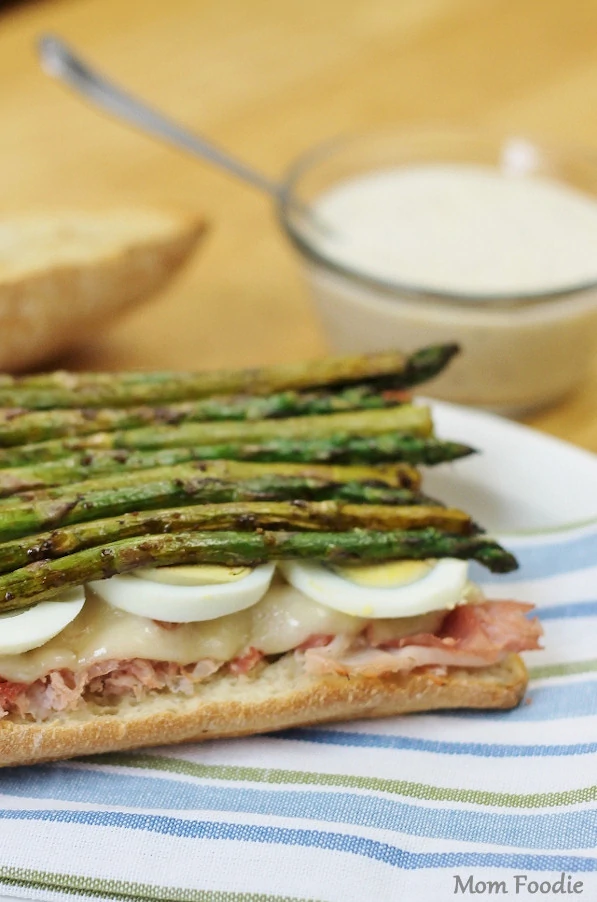 Place asparagus spears on top, in alternating directions. Generously douse with the Buttermilk, Horseradish and Mustard sauce.  You now have yourself an Easter Sandwich!
Serve some Mustard Dill Oven Fries, Kettle Chips , Dill Pickle Pasta Salad or Southern Potato Salad on the side!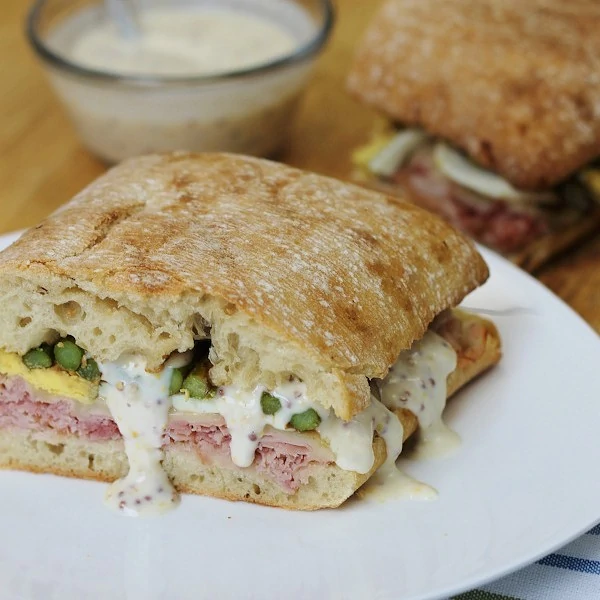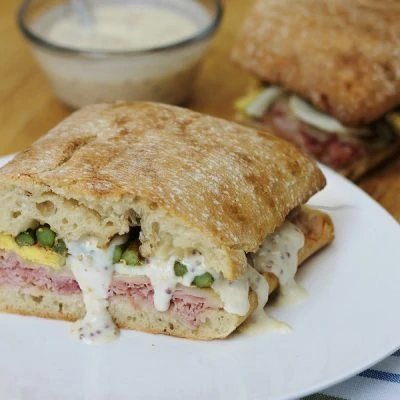 Ingredients
Ciabatta bread

¼-1/2

ounce

thinly sliced ham.

2

slices

Swiss cheese

2

hard boiled eggs sliced

6-8

cooked asparagus spears

preferably grilled or roasted

⅓

cup

mayonnaise

2

tbs.

buttermilk

2

tbs.

horseradish

1 ½

tbs.

old fashioned whole grain Dijon mustard
Instructions
Preheat grill to low/med.

Place Ciabatta loaf on grill, and flip after about 5 minutes. Grill another 5 minutes. If you don't have precooked asparagus, grill it on the other side (marinate in olive oil & balsamic).

While the bread is grilling, whisk together buttermilk, mayonnaise, horseradish and grain mustard to make your dressing.

Slice bread horizontally. Place ham, then Swiss on one side.

Grill both pieces. The empty side will grill inside down, to crisp up.

Once the ham is warm and cheese is melted, top with sliced eggs, then asparagus.

Serve with dressing on side, so it can be applied during the meal.