My latest creation is this Gluten Free  Maple Coconut Veggie Muffins recipe.  I used a combination of coconut flour, along with millet and corn flours that I ground in my Wondermill Grainmill.  The muffins are also dairy free.   One of the challenges of gluten-free baking (besides the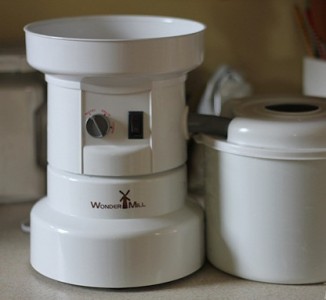 obvious lack of gluten)  is replicating the weight and general texture of wheat flour.  This is why gluten free baking recipes often have an intimidatingly long list of ingredients.  Here I used coconut flour for moisture and flavor, millet for texture and corn… well mostly because I didn't want too much millet flour (it adds a bit of an aftertaste when you use too much of it).
Gluten free baking can be a bit of a challenge, but don't let it daunt you.  If you are trying to adapt regular recipes to gluten free start off with more forgiving things like cookies and muffins. This will also give you the chance to see which flours your family prefers.  I used a several old zucchini bread recipes from cookbooks as reference when making this gluten free muffin recipe.  The carrots and sweet potatoes were added since my daughter loves them.  Coconut oil use used to enhance the coconut flour used, and maple syrup added another dimension, while lessening the amount of cane sugar used.  I also thought it might help with moistness.

Gluten Free Maple-Coconut Veggie Patch Muffins
Gluten free muffins with zucchini, carrots and sweet potato featuring maple and coconut. Mini-muffin and full sized muffin directions.
Cuisine:
Ecclectic, gluten-free
Servings
:
48
-60 mini-muffins
Ingredients
1

cup

shredded zucchini

1/2

cup

shredded carrot

1/2

cup

shredded sweet potato

1

tsp.

freshly grated ginger

1

cup

millet or sorghum flour

1

cup

coconut flour

1

cup

corn flour

1

tbs.

baking powder

1

tsp

cinnamon

1/2

tsp

cardamom

1

cup

sugar

3

eggs

1/3

cup

maple syrup

1/2

tsp

vanilla

2/3

cup

coconut oil

1/3

cup

orange juice
Instructions
Shred vegetables and grate ginger. Put in bowl and set aside.

In another bowl, mix together the flours, baking powder, cinnamon, cardamom and sugar.

In a third bowl, whisk together the eggs, maple syrup, vanilla, oil and juice.

Combine the three, and mix well. Once combined texture will be like a softer version of playdough.

Scoop about a tbs of the dough like batter into mini-muffin tin (preferably with liners)

Bake for 12-14 minutes.
Recipe Notes
*For full size muffins bake 17-19 minutes.