Try this out this simple recipe for slow cooker chicken thighs and potatoes with carrots in a simple savory sauce. It's a delicious full meal that is so easy to make and inexpensive thanks to bone-in chicken thighs.
The Crock Pot Chicken thighs recipe is a hearty, savory dish will warm you up on cold nights. It makes great recipe choice to cook for busy families. The crockpot chicken and potatoes happens to be gluten-free too, if that is a concern.
A Budget-Friendly Slow Cooker Chicken Recipe
Slow Cooker Chicken Thighs with Potato and Carrot is such an easy satisfying traditional meal. The crockpot chicken and root vegetables are accompanied by a delicious savory sauce as well.
The bone-in chicken thigh recipe is budget-friendly and low effort so a great fit for almost any busy family. Skin-on chicken thighs (like most dark meat) are an inexpensive cut and the slow cooker
is set it and forget it, until dinner time anyway.
This is one of our favorite slow cooker meals, and it will be yours too.
Reynolds Slow Cooker Liners (4 Count)
How to Make Crock Pot Chicken Thighs with Potatoes and Carrots
Here is a quick visual walk through showing you how to cook chicken thighs with potatoes and carrots in the crock pot.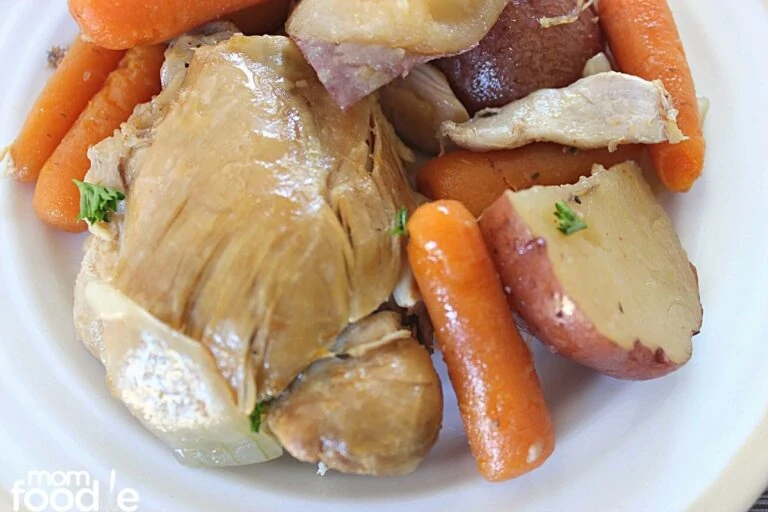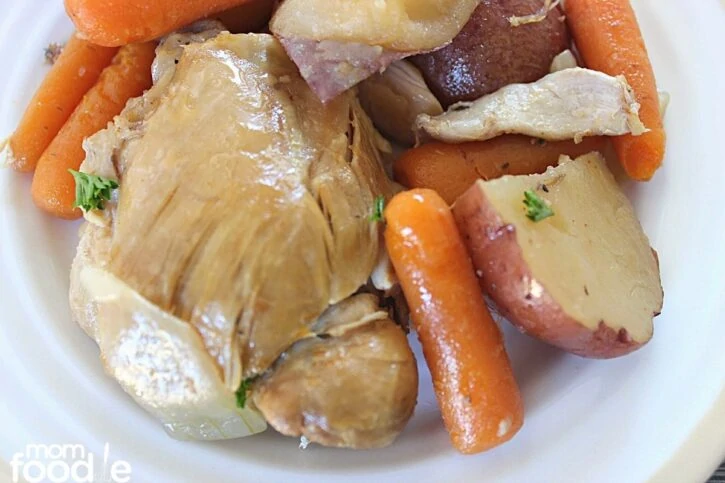 Make this comfort food dish today, the whole family will love it. The full printable crockpot recipe is below.
Prep Time: 15 mins | Cooking Time: 3-4 hours on high or 6-8 hours on low
Ingredients
Here's what you'll need to make this easy slow cooker chicken thighs dinner: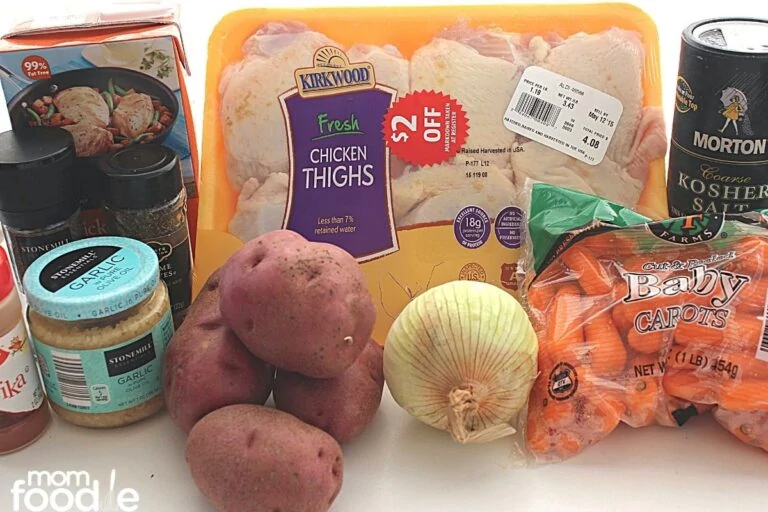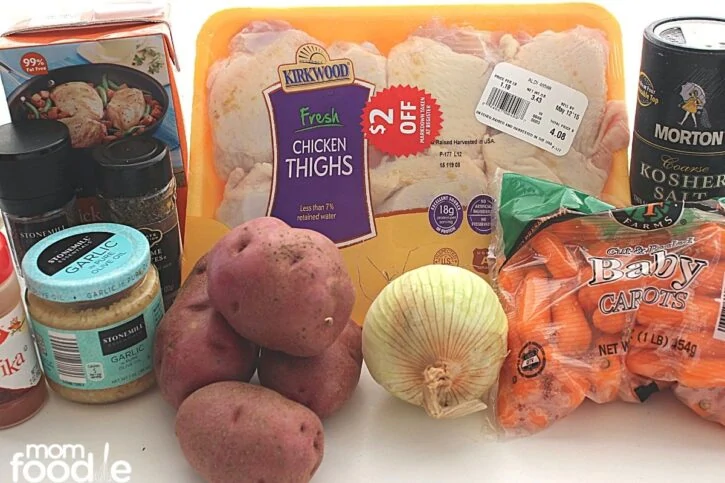 Chicken thighs, bone-in, skin-on
Oil (classic olive oil or avocado oil are great choices)
Red potatoes (rough chopped) or baby potatoes
Baby carrots or thick sliced carrots
Onion
2 cloves garlic, minced (or jarred minced garlic)
Thyme leaves
Paprika
Chicken broth
Cornstarch
Water
Instructions for making the chicken thighs crock pot dinner:
Now let's make the meal!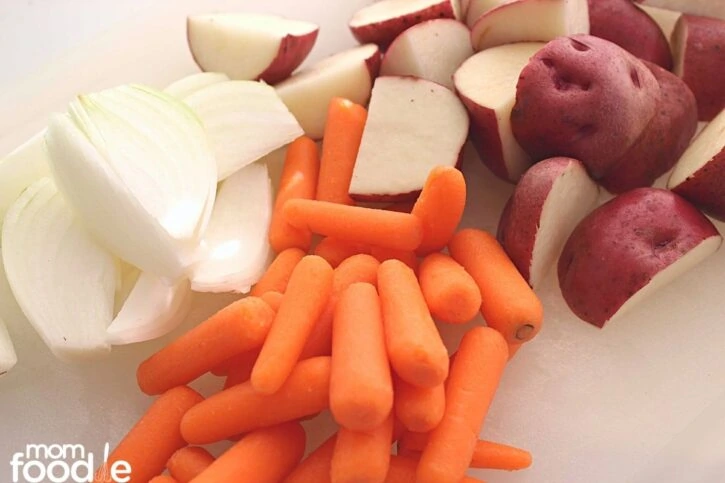 Cut Vegetables
All veggies should be a bite or two in size. Rough chop larger produce.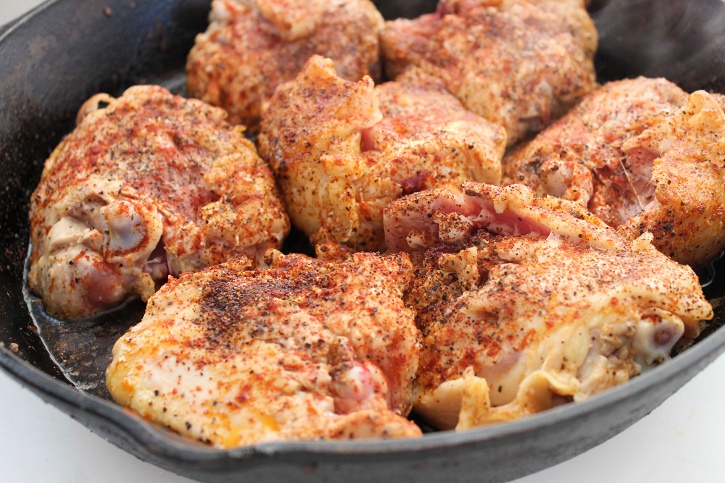 Brown the chicken in a frying pan
The first step is to blot the skin-on chicken thighs with paper towel to remove excess moisture, then season chicken with salt, pepper and paprika.
Brown the chicken thighs in a frying pan
over medium high heat. Start by searing each chicken thigh skin side down, then flip. This step adds so much flavor, so don't skip it.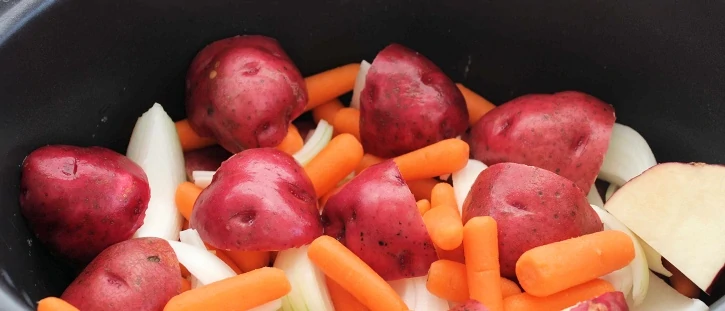 Layer the Potatoes and Carrots in the Slow Cooker
Next, place a single layer of chopped potatoes topped by carrots in the bottom of the slow cooker and then top with seasonings.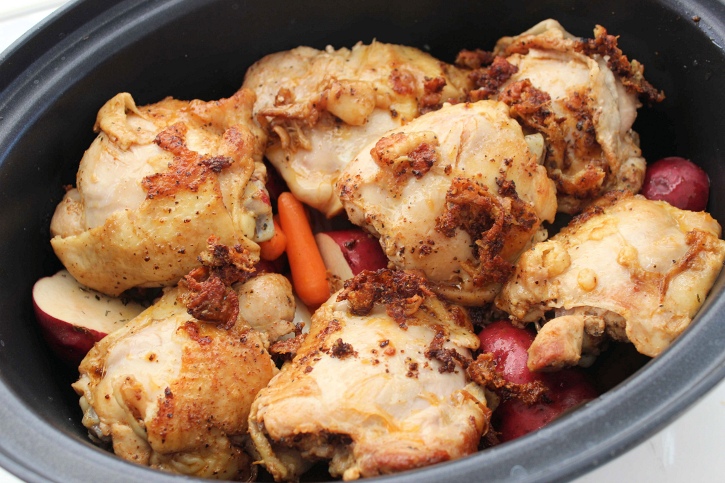 Put the Chicken on Top
Now, arrange the nicely browned chicken thighs in the slow cooker, on top of the potatoes and carrots.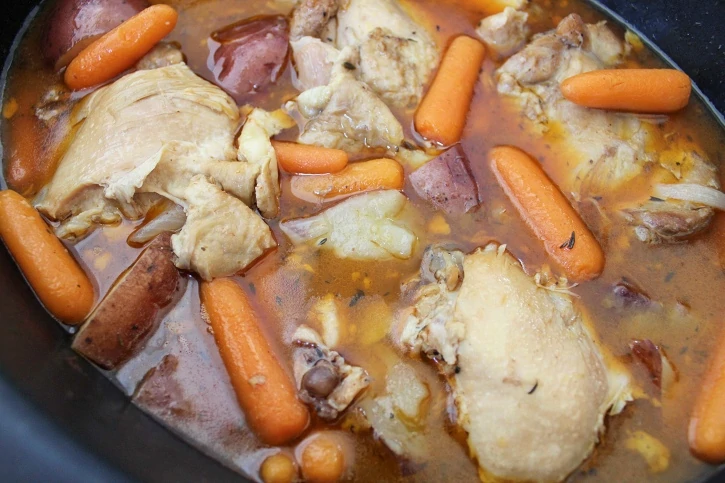 Add the Broth
Pour the broth into the slow cooker and put on cover. Simmer in the liquid on high for 3-4 hours or low for 6-8 hours.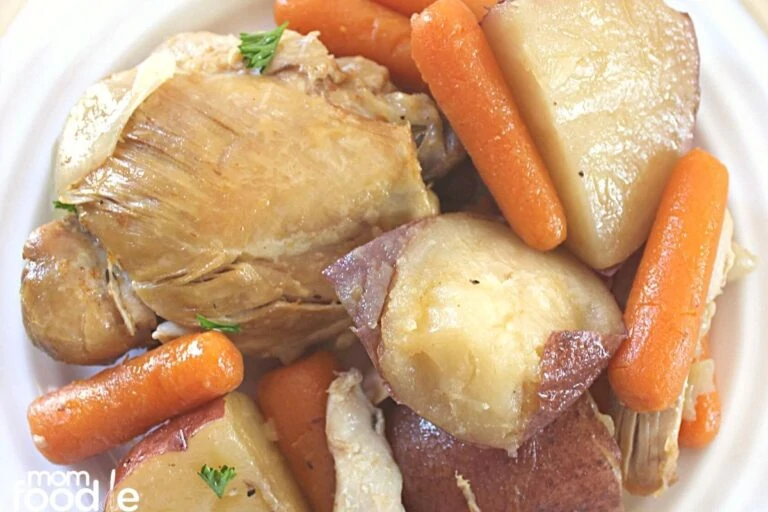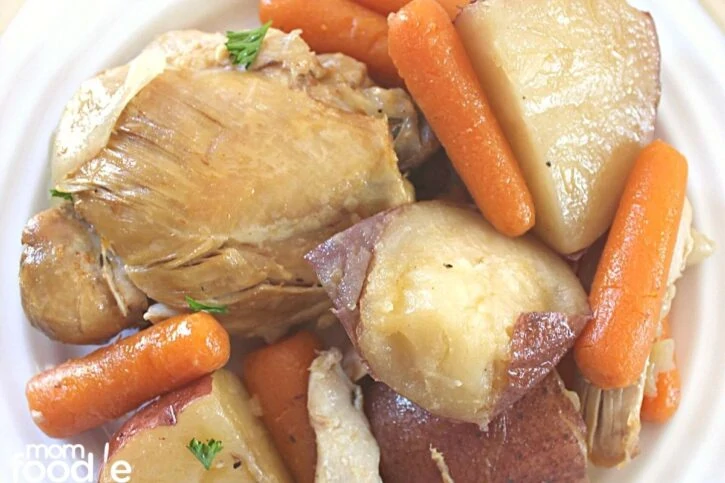 Thicken the Sauce
Thicken the broth with cornstarch
to make a sauce before serving. Season with salt and pepper if needed.
Serving Slow Cooker Chicken Thighs
Simply remove chicken and potatoes with carrots and place on serving plate. Scoop a ladle of the sauce to pour in top. Garnish with chopped parsley or green onions if you like and serve.
Tip: Save the extra sauce, it is good way to impart extra flavor when preparing leftovers.
I would suggest adding a simple green salad with ranch dressing or vinaigrette to balance out the meal. Some breadsticks would go nicely as well.
If you like this recipe, be sure to also try our Slow Cooker Meatloaf Recipe with Potatoes and Carrots.
Easy Additions & Swaps
While this is one of my favorite chicken thigh crock pot recipes, that doesn't mean we can't zest it up a bit! There is so much you can do with this basic recipe as a starter. Here are a few easy flavorful add-ins to try in this tasty tender chicken:
For some Greek flair, add green olives, lemon juice (or lemon zest), oregano and fresh minced garlic to the cooking liquid in the pot . Perhaps sprinkle on a little feta cheese when serving.
Of course a little onion powder, garlic powder, curry seasoning or Italian seasoning will enhance flavor. Just add a little, about a ¼ to a ½ teaspoon should be enough. A pinch of red pepper flakes is a good choice if you want to add a little heat.
Fresh herbs improve any dish in my book. A mixture of a bay leaf or two, fresh thyme and rosemary is well worth including in the pot when cooking.
Swap out the potatoes with other vegetables, such as fresh green beans or turnips. Serve the cooked meat and veggies with sauce over noodles, steamed white rice or brown rice, cauliflower rice or even mashed potatoes.
Pour on a little BBQ sauce over the chicken thighs and root vegetables for a sweet and tangy flavor boost.
How to Store Leftover Crock Pot Chicken and Potatoes
If you have leftovers after making this easy crock pot chicken and potato recipe, here are some tips for storing them so they stay fresh and delicious:
Store the cooked chicken a potatoes in an airtight container in the refrigerator for 2-3 days.
To reheat leftover crockpot chicken and potatoes, the microwave is the easiest choice. If you prefer to use the oven simply place one layer at a time in an oven safe dish and bake at 350 degrees F for 20-30 minutes.
Why Chicken Thighs Are Best for Slow Cooking
Chicken thighs cook perfectly in the slow cooker, especially those with the bones and skin on. The skin on this cut adds fat your dish which means more flavor moistness. The bones also impart more taste and help to keep the meat from drying out. Of course, as an added bonus, they're inexpensive!
Q&A
Can I use boneless skinless chicken thighs in the crock pot recipe?
Yes, boneless thighs can be swapped in, though I do recommend bone-in thighs. They will be more flavorful and juicy once cooked.
When cooking boneless chicken thighs, although you won't have chicken skin to crisp, still sear the thighs to get that great savory flavor searing imparts. The boneless skinless thighs will also cook a little faster. So plan accordingly.
Can chicken breasts be used in this crock pot chicken recipe?
Yes, although created for bone-in chicken thighs, chicken breast meat will work with a few tweaks.
I still recommend a light sear, but if you prefer to skip that it is fine. With chicken breast I urge you to select the low setting on your crock pot, to avoid the meat getting tough.
The chicken breasts will cook faster than thighs, but the potatoes and carrots still take time. If those are tender, the meat will be cooked though. It shouldn't really take longer than 3 hours.
Can I cook frozen chicken thighs in the crock pot?
While many do, it really is not recommended. According to the USDA it is risky to cook frozen raw meats in a slow cooker. [ref] This will be less of an issue with smaller cuts such as boneless thighs. Even then expect considerably longer cooking times.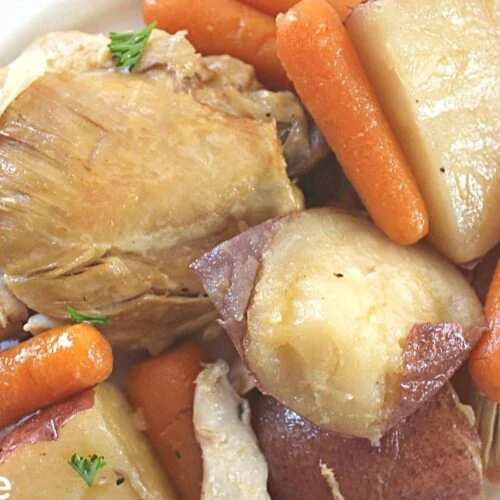 Slow Cooker Chicken Thighs with Potatoes and Carrots Recipe
Crock Pot Chicken Thighs with Potatoes & Carrots is an easy dinner recipe the family will find satisfying!
Print
Pin
Rate
Ingredients
3-4

lb

Chicken Thighs

, bone-in

1

tablespoon

oil

2

lb

Red Potatoes

quartered

1

lb

Baby Carrots

1

large Onion

roughly chopped

2

cloves

Garlic

minced

1

teaspoon

Thyme Leaves

1

tablespoon

Paprika

2

teaspoon

Salt

2

teaspoon

Black Pepper

3

cup

Chicken Broth

3

teaspoon

Cornstarch

3

teaspoon

Water
Instructions
Season chicken thighs on all sides with salt, pepper and paprika.

Place oil in skillet over med-high heat and brown the thighs on each side.

Layer potatoes, carrots and onions in slow cooker. Then scatter the garlic and thyme over vegetables.

Lay the chicken thighs on top.

Add the broth to the slow cooker.

Cook on low for 6-8 hours or high for 3-4 hours. The thighs will be nearly fall apart tender when done.

Whisk together cornstarch & water. Add to slow cooker and simmer a few minutes to thicken sauce before serving. Re-season with salt and pepper to taste.
Nutrition
Calories:
766
kcal
|
Carbohydrates:
38
g
|
Protein:
47
g
|
Fat:
47
g
|
Saturated Fat:
12
g
|
Cholesterol:
259
mg
|
Sodium:
1500
mg
|
Potassium:
1603
mg
|
Fiber:
5
g
|
Sugar:
8
g
|
Vitamin A:
11200
IU
|
Vitamin C:
26.5
mg
|
Calcium:
87
mg
|
Iron:
4.2
mg
More Incredible Slow Cooker Meals
Save even more time in the kitchen. Try one of these slow cooker chicken recipes featuring thigh meat next.