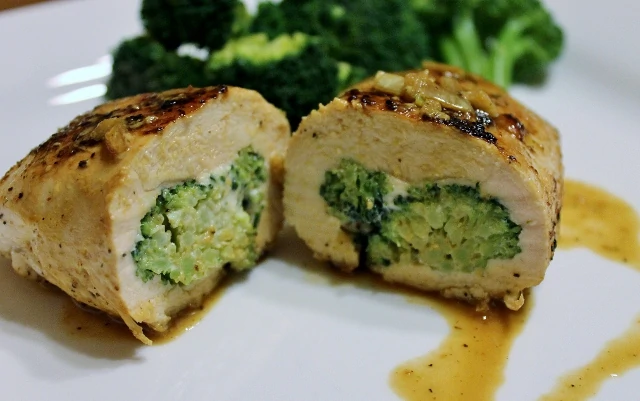 Who doesn't love stuffed chicken? Like half of America, I am currently trying to eat healthier for the New Year.  For dinner tonight I came up with this simple and light version of broccoli and cheese stuffed chicken, complete with a flavorful gravy.  It was cooked on the stove top, and on the table quickly.  I didn't measure while making this, but the recipe should be easy to duplicate anyway.  The cheese spread wedges really don't melt, so pan frying is not a problem.
If stove top is not the way you want to go, try my baked Cheese and Broccoli Stuffed Chicken or Grilled Stuffed chicken breast Italiano. For a slow cooker meal, try my Crock Pot Chicken Alfredo Recipe.
Serve with homemade fried rice, crock pot glazed carrots or sauteed vegetables. Crock pot mashed potatoes or corn casserole are also delicious choices.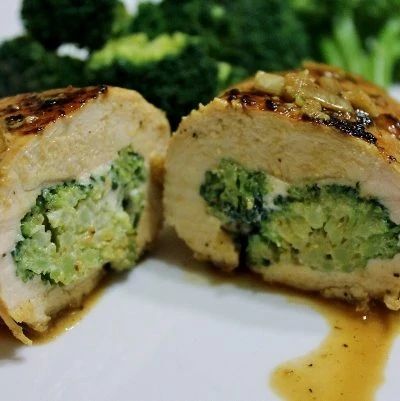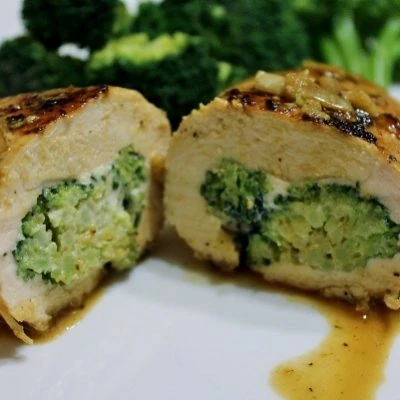 Easy Broccoli Cheese Stuffed Chicken
This Broccoli Cheese Stuffed Chicken recipe is low in calories, but easily pleases both dieters and the rest of the family.
Print
Pin
Rate
Ingredients
small chicken breasts

1 per serving

Laughing Cow Light Creamy Swiss Wedges

1 per serving

steamed broccoli

Mrs. Dash Salt-free Seasoning

I used table blend

non-stick cooking spray

clove

of garlic

crushed/minced

chicken broth

fat free milk
Instructions
Pound out chicken breasts. (just put each between two sheets of plastic wrap and pound with back of a skillet)

Lift off top sheet of wrap and sprinkle generously with seasoning. Replace wrap.

Flip over & remove top wrap and discard. Break up a wedge of the cheese spread, and line up on breast slightly off center. Add broccoli florets tops, in same area.

Use the remaining piece of wrap to assist you in rolling the breast and forming it snugly.

Spray skillet with cooking spray, put on med heat.

Once hot, add the stuffed breasts. Cover.

Gently flip the breasts a few times, to ensure even cooking. Don't worry about the cheese melting out, it isn't very meltable.

Once cooked through, remove breasts and set aside. Drop the garlic in the skillet, add a generous splashes of broth and fat free milk and increase the heat to med-high, to quickly reduce and cook garlic.

Pour the sauce over breasts and serve.