This ham loaf recipe without ground pork is one of the best ways to use up leftover cooked ham from holiday dinners. You may just find that you like the ham better the second time around.
The recipe is a delicious addition to the family dinner menu during the week after a holiday. Bake this moist loaf tonight!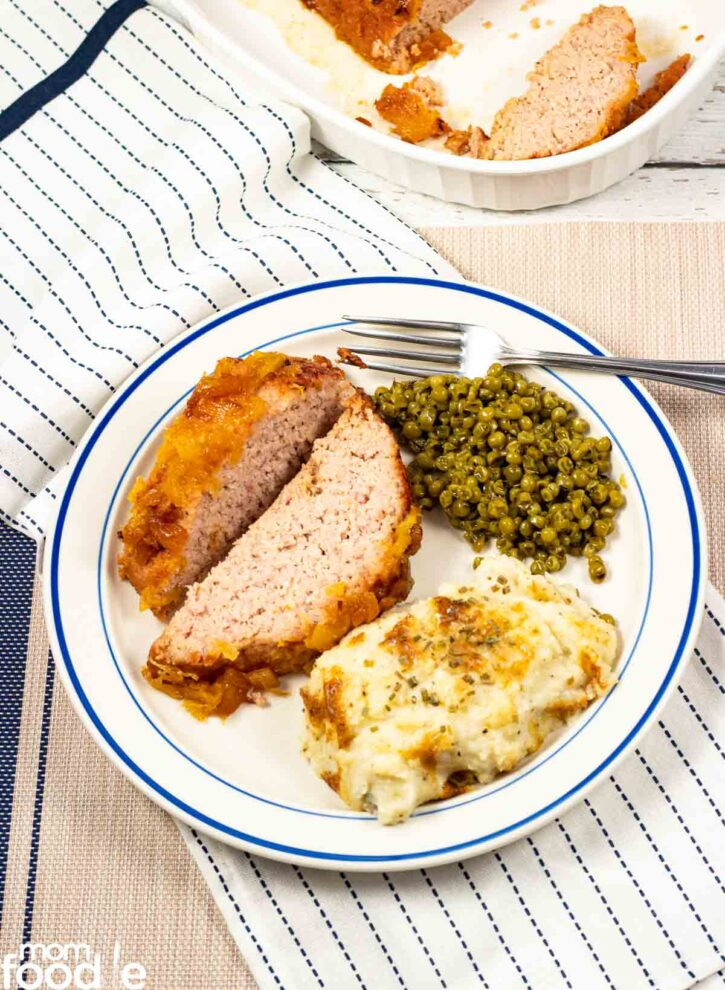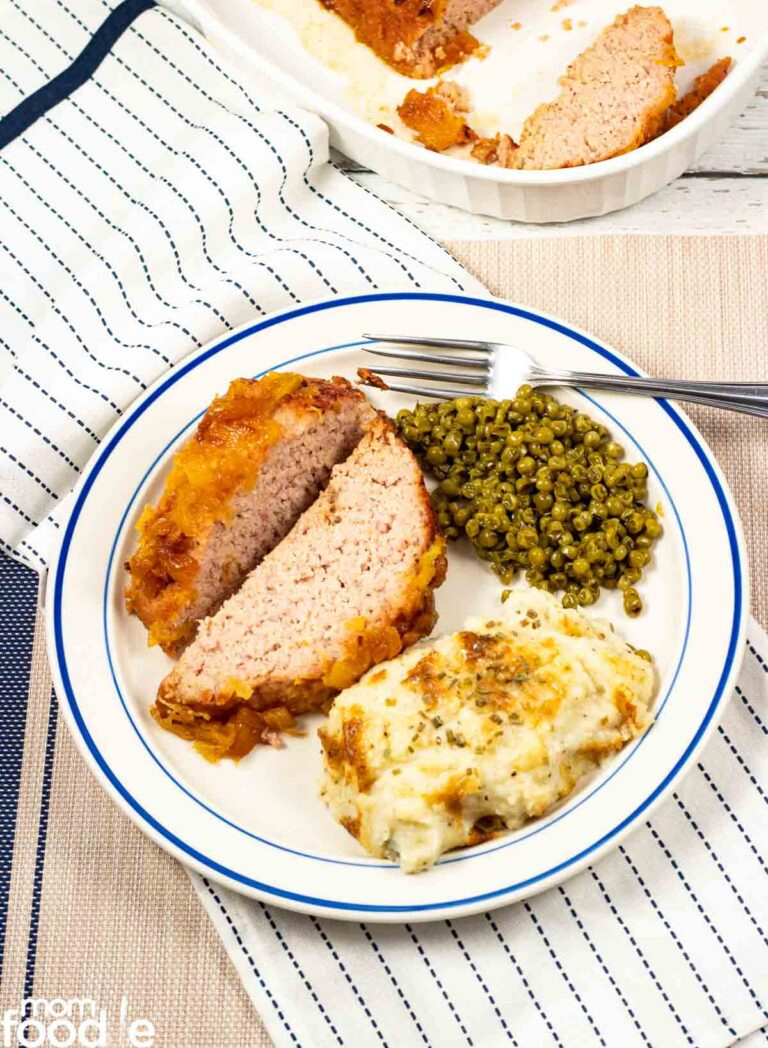 Old fashioned ham loaf recipes are a great alternative to regular meatloaf. They are also known as Pennsylvania Dutch ham loaves and are a popular Amish food.
Honey, spiral, smoked ham or even leftover ham steaks work great in this recipe. It is up to debate which makes the best ham loaf. It all depends on the flavor you prefer.
How to Make Ham Loaf
Let's make this fun easy leftover ham loaf for a delicious meal tonight! Print recipe card below.
Recipe makes 6-8 servings.
Prep time 15 min. | Cook time 60 min. | Total time: 1 hour 15 minutes
Ham Loaf Ingredients (glaze below)
2

Eggs

evaporated milk

Panko breadcrumbs

black pepper

dry seasoning blend (I suggest a no or low salt one such as Mrs. Dash or Spike, due to the high sodium content already in the ham.)

2 pounds Ham

diced sweet onion *** onions optional
Preparation
Start by preheating your oven to 350 degrees F.
Next, grind ham in a food processor or with a meat grinder (coarse setting). If you don't happen to have any ham, you can have your local local grocery store grind some for you. Some meat markets and butcher shops even stock ground ham.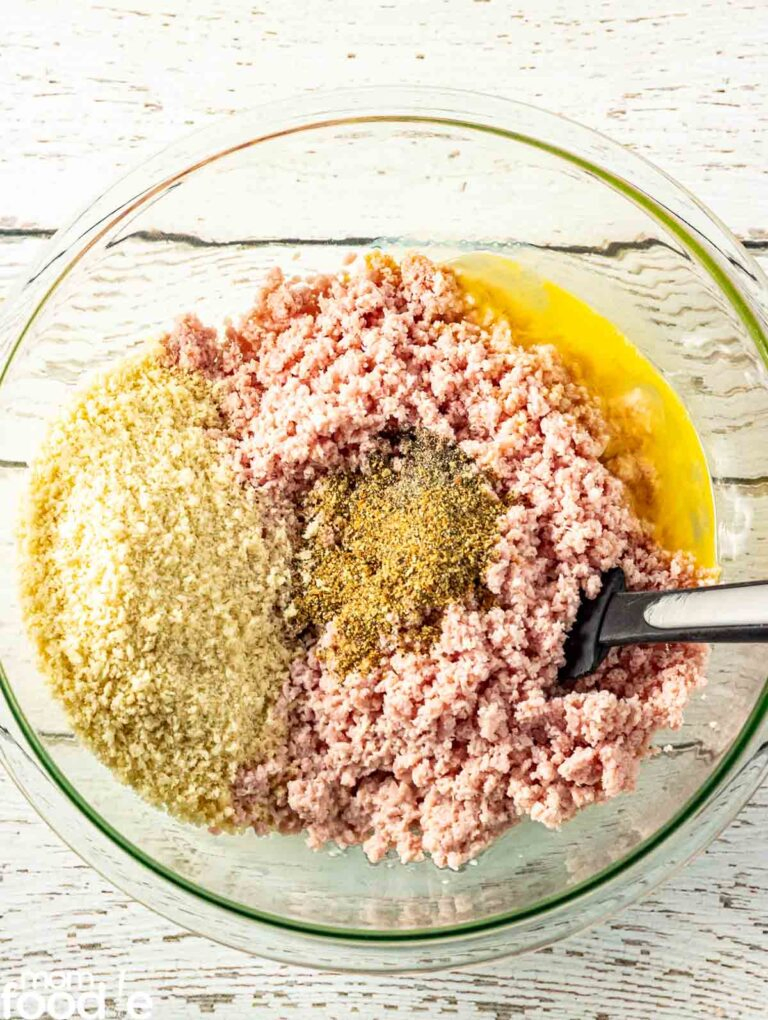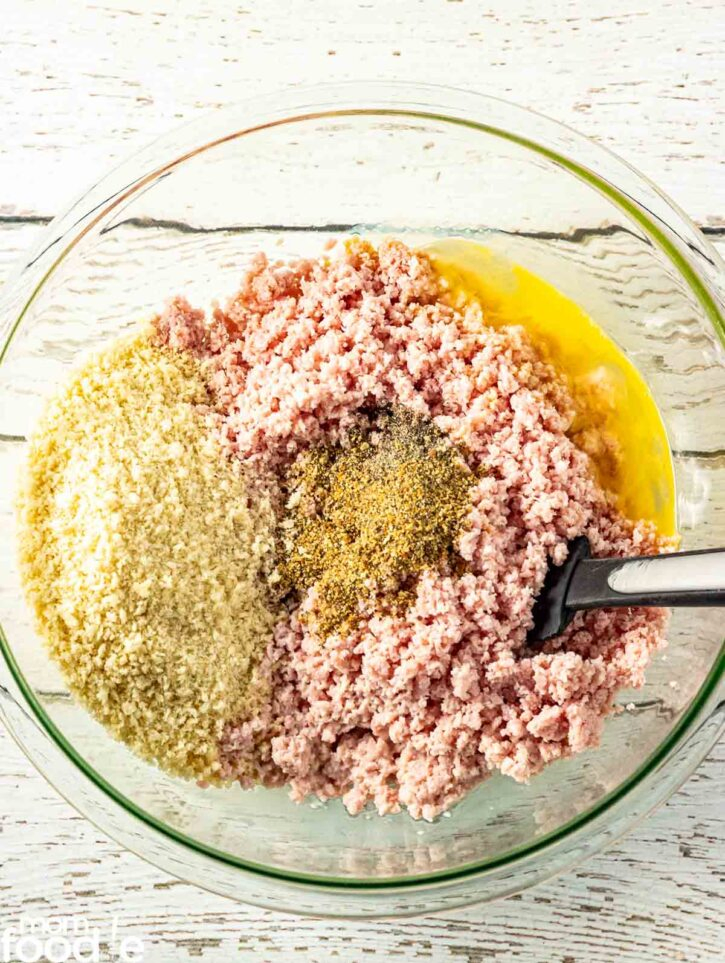 Beat eggs, then combine beaten egg with the ground meat, evaporated milk, dry bread crumbs and seasonings (plus chopped onion if you are using it). Combine the ham mixture by mixing well.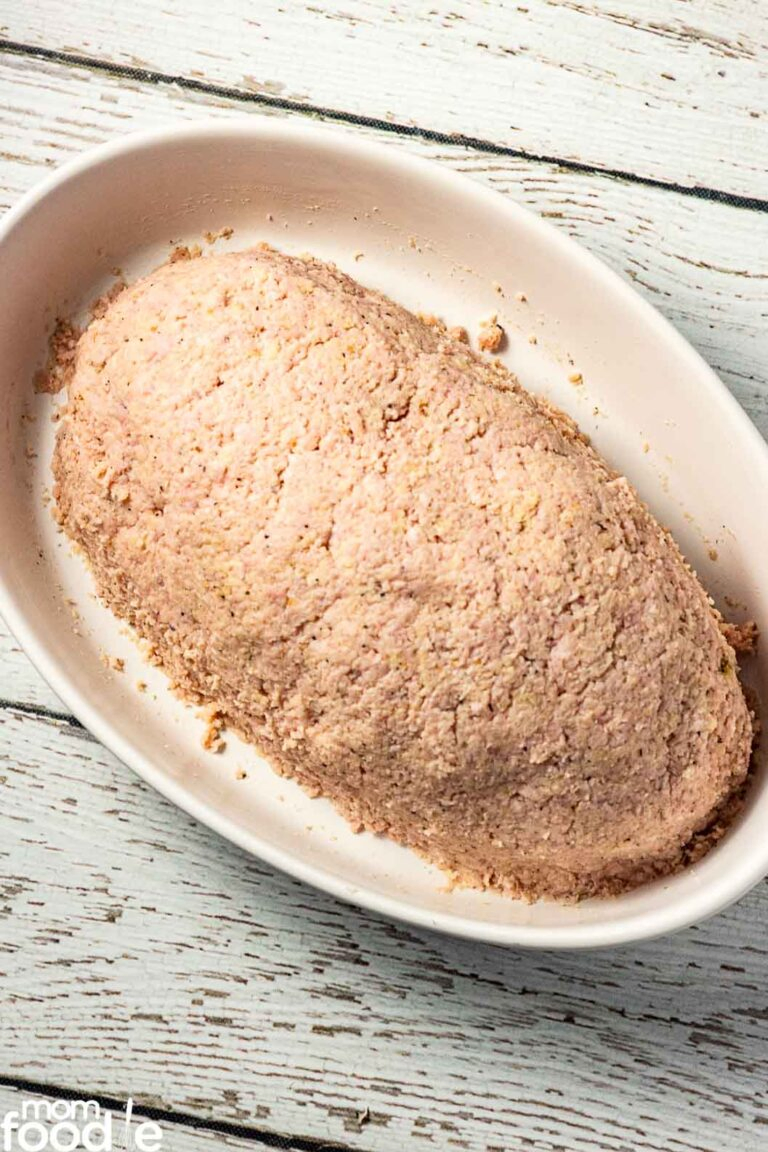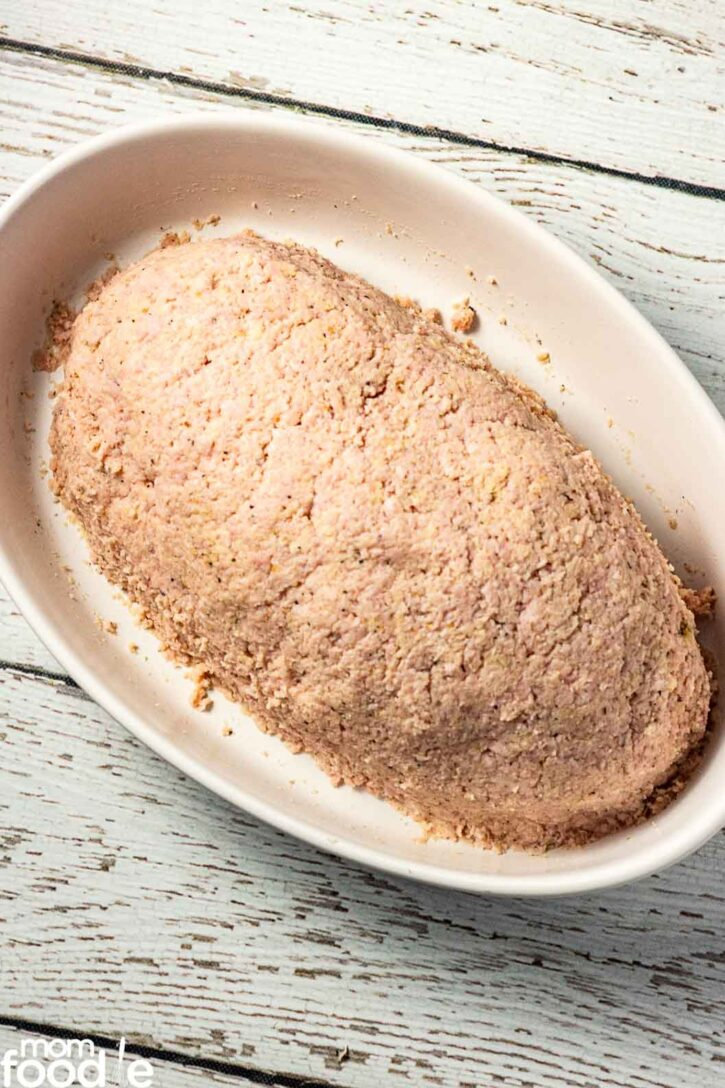 Next, take the meat mixture and form into a loaf and place in baking dish coated with cooking spray or on foil lined baking sheet. Bake for the first 25 minutes before applying glaze.
Making Pineapple Brown Sugar Glaze
Once formed and you start baking it, it's time to make your glaze for the ham loaf.
Glaze Ingredients
Here are the ingredients you will need for the sticky pineapple sauce.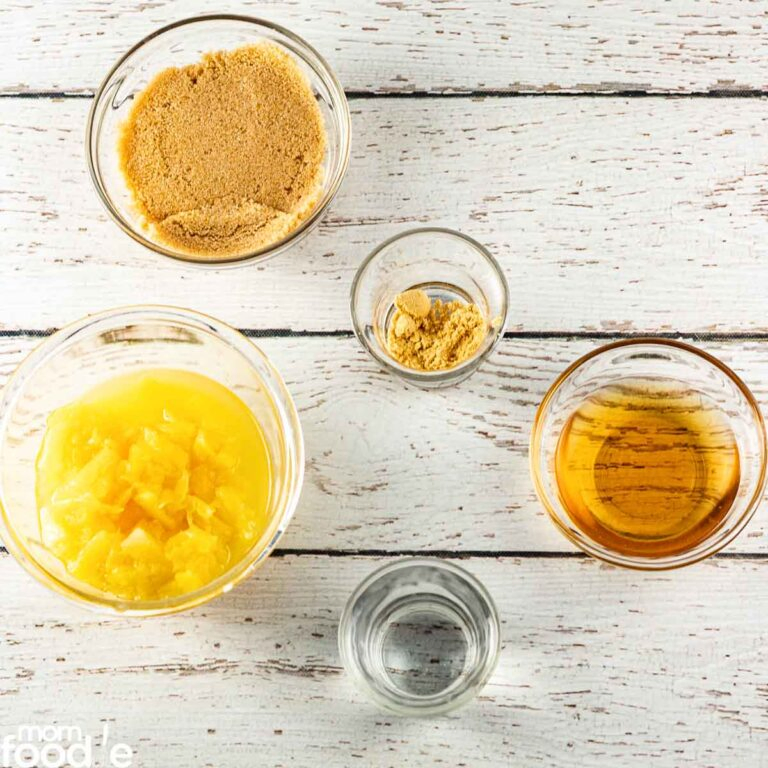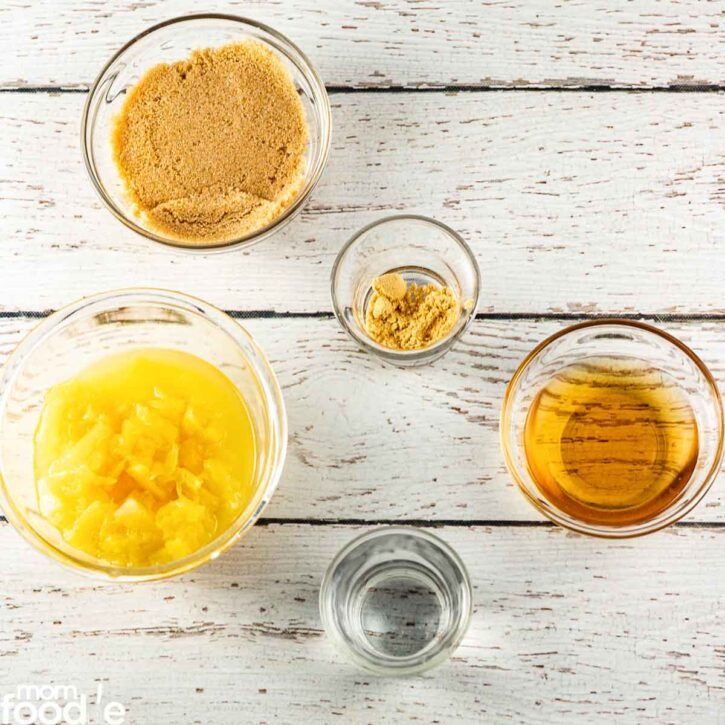 brown sugar
apple cider vinegar
dry mustard powder (yes, you can swap Dijon mustard or even yellow mustard if you wish)
crushed pineapple with the pineapple juice
water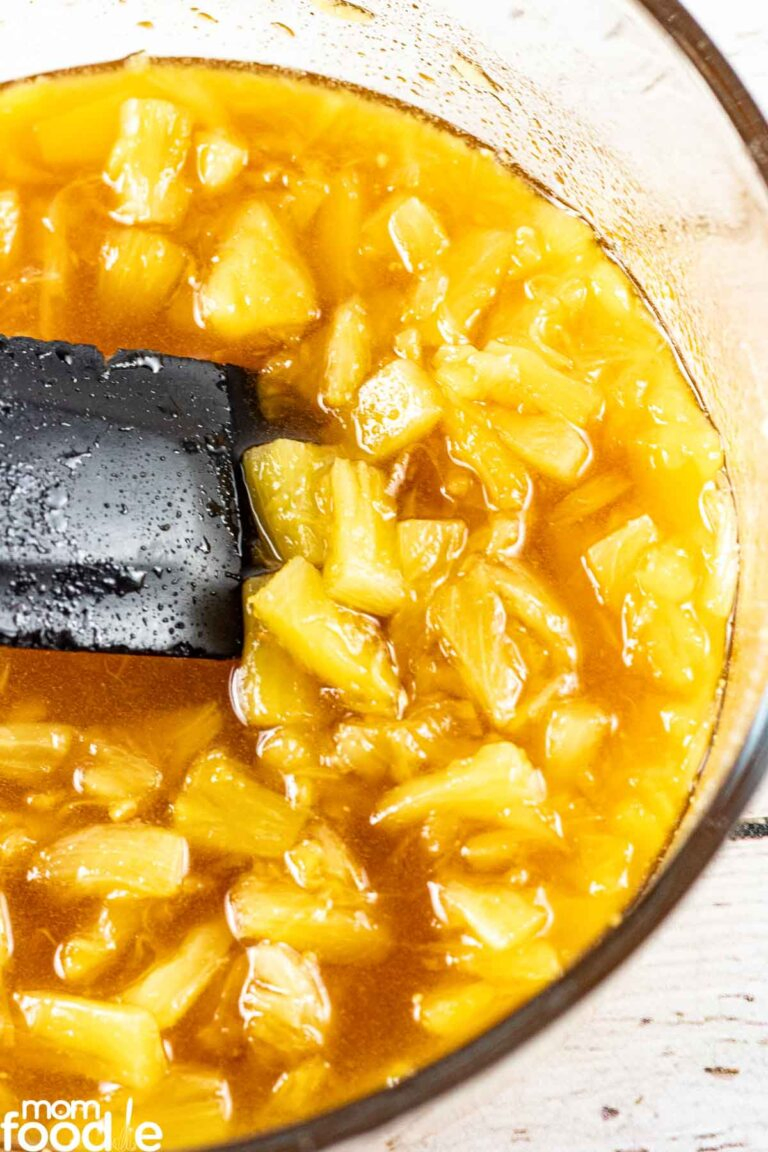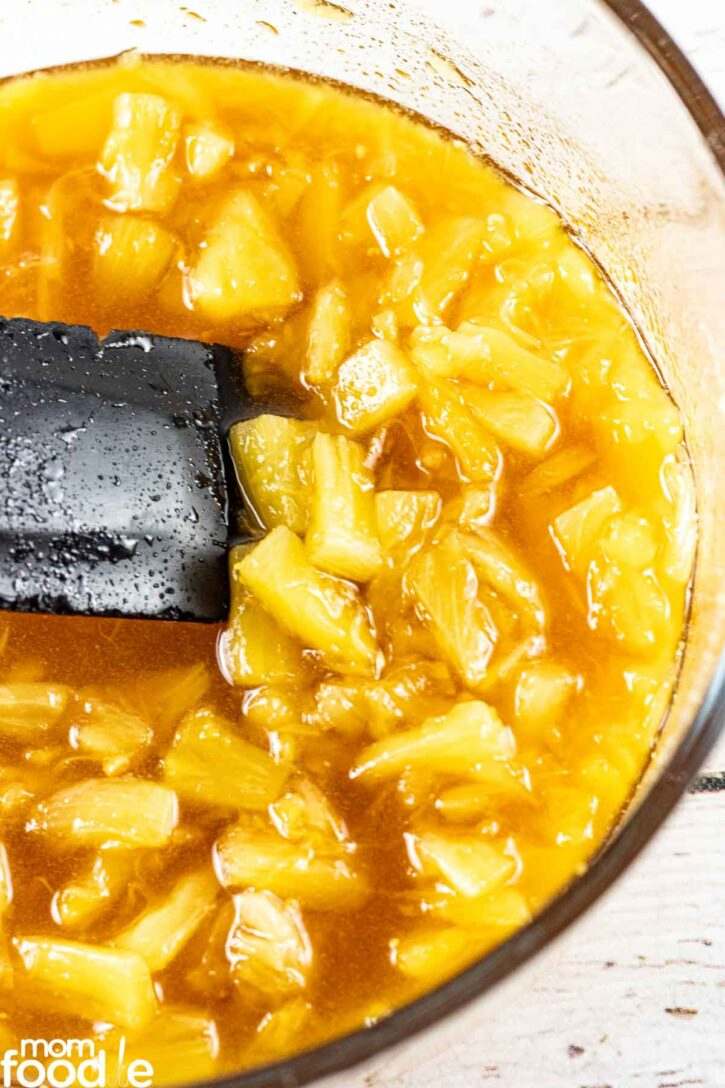 Simply mix them together.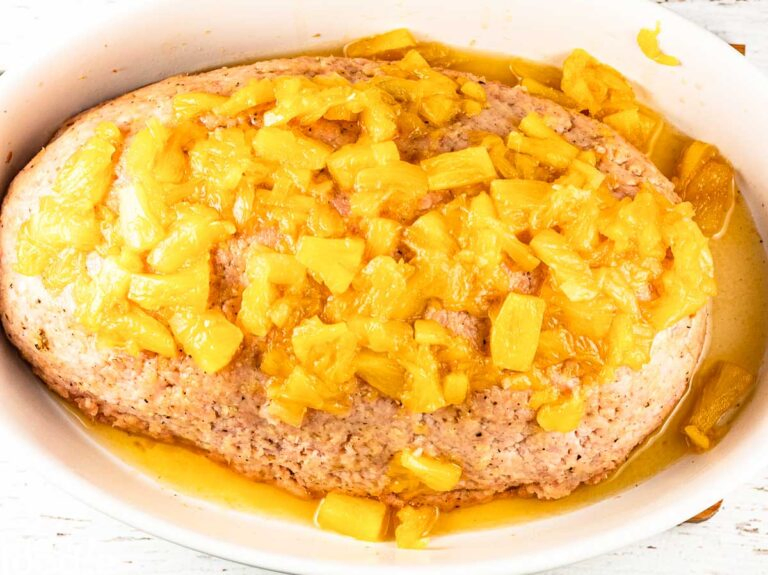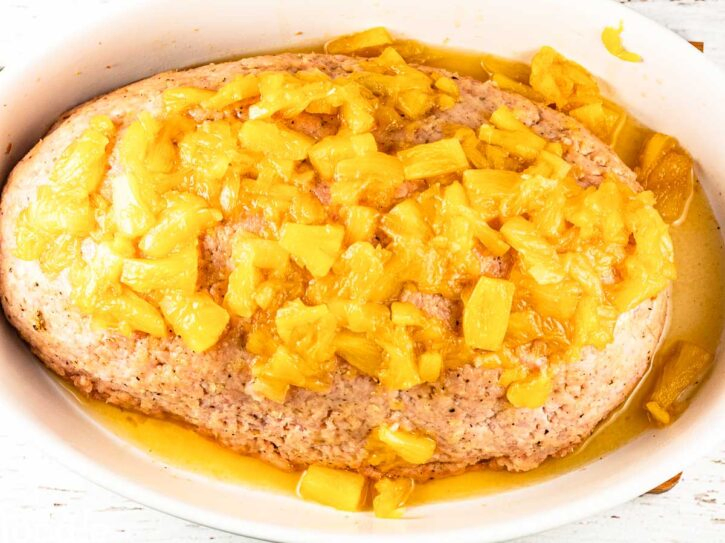 After the initial 25 minutes of baking, pour glaze on top of the ham loaf. You can brush loaf sides to ensure full coverage also.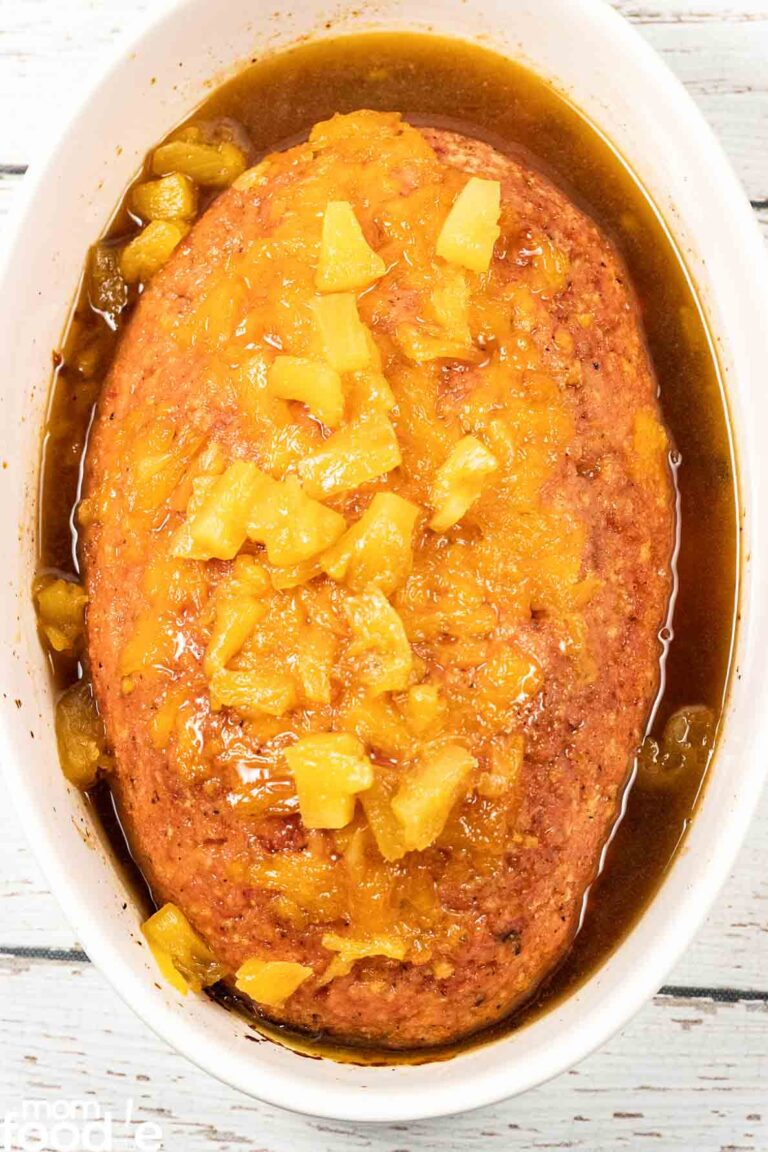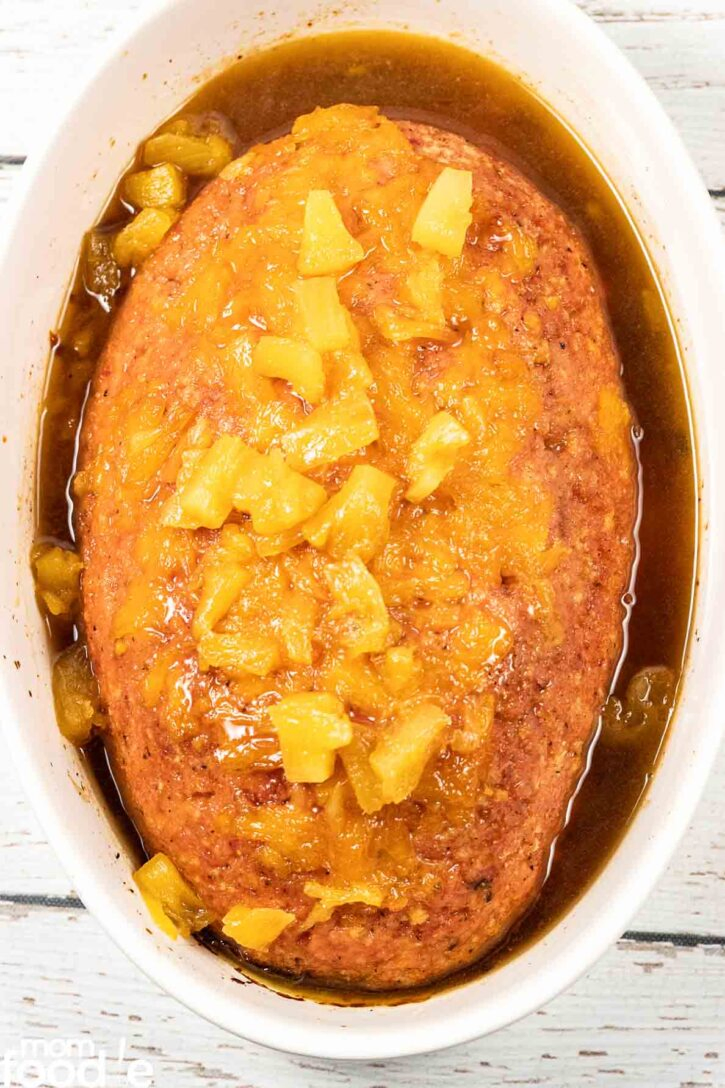 Continue baking another 35 minutes uncovered, basting occasionally.
Safety Tip
For food safety it is wise to cook ham loaf until it has an internal temperature of 160 degrees F on a meat thermometer. This is even more important if you have added any raw ground meat to the loaf.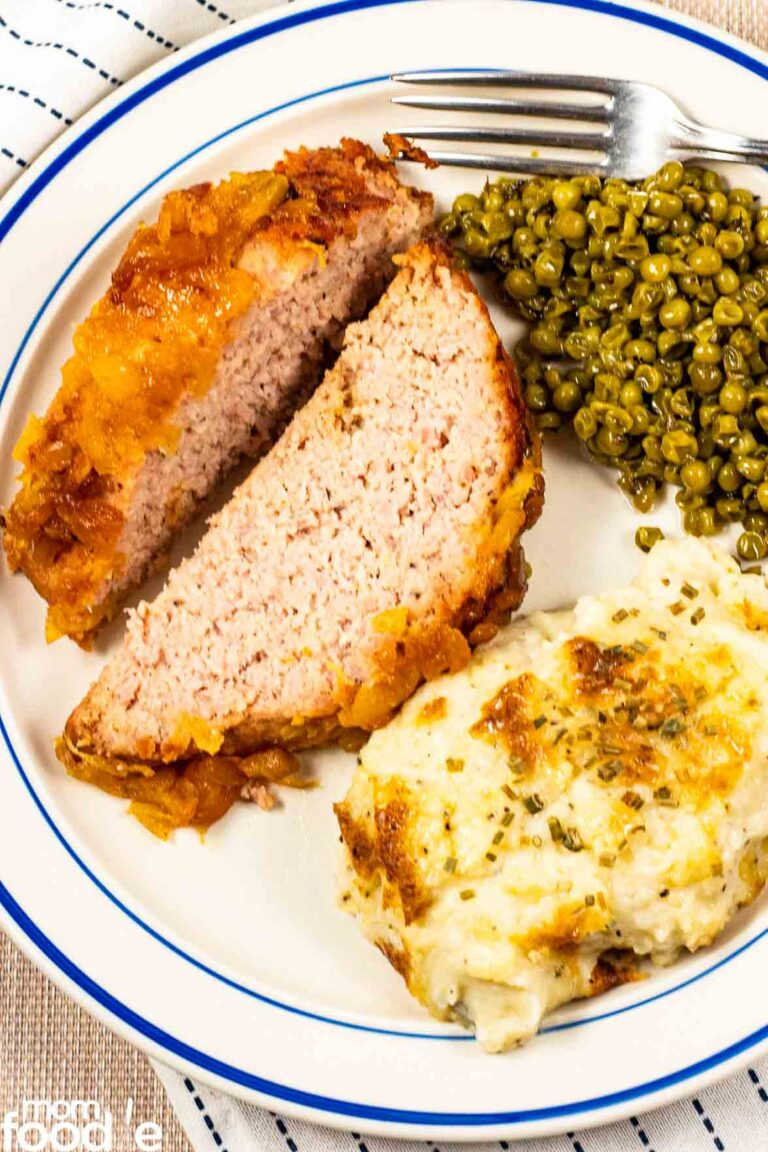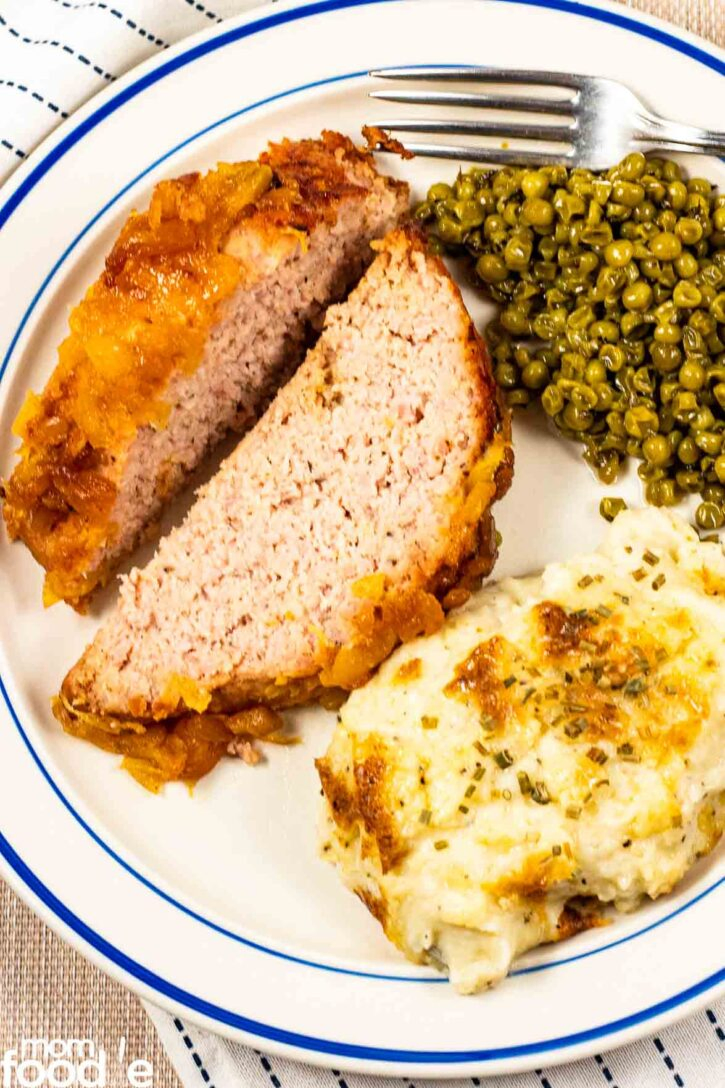 Alternative Glaze Recipe Option
If you prefer combine ½ cup each of ketchup and brown sugar with ¼ cup of apple cider vinegar and sprinkle of garlic powder in a small saucepan. Mix well while cooking down over medium-high heat for 5-6 minutes. Stir continually to avoid burning.
Use this sauce to top the loaf with, mid-bake as shown above.
Serving
Serve ham loaf slices with the pineapple glaze and traditional sides like mashed potatoes, peas, green beans, carrots or asparagus. Apple butter or applesauce would be nice served with this also. Maybe mix it up with some pasta or potato salad.
Here are a few delicious side dishes that go well the ham loaf recipe:
Versions
You can also make the loaf with a combination of ground ham and pork. The typical ratio of the meats is 50/50, so swap in one pound ground pork. Using ground pork in the recipe will reduce the saltiness of the finished loaf.
Many also like to shape smaller loaves or ham balls. These options are easy to serve and are also great with the pineapple glaze. Simple reduce bake time, depending on size.
Storing Leftovers
If you end out with any of the recipe left after dinner, simply wrap well with plastic wrap or foil or store in an airtight container. It will last for 3-4 days in the fridge.
Alternatively, you can freeze it for up to 3 months. If you choose to freeze the ham loaf make sure it is wrapped well to avoid frost and freezer burn.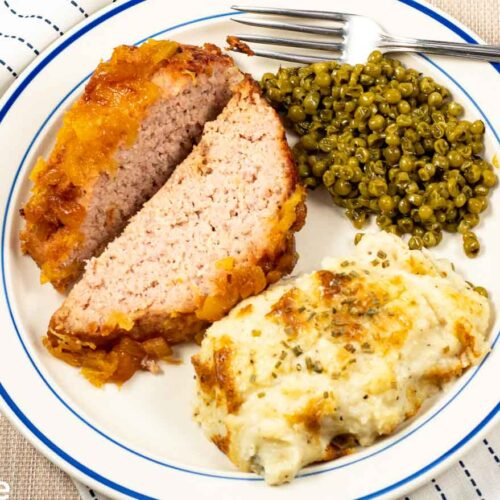 Ham Loaf Recipe
An old fashion ham loaf with pineapple brown sugar glaze is a classic Amish dish and a great way to use up leftover ham.
Print
Pin
Rate
Equipment
food processor or meat grinder

baking pan or loaf dish
Ingredients
2

large Eggs

1

cup

evaporated milk

1

cup

Panko bread crumbs

¼

teaspoon

ground black pepper

1

tablespoon

dry seasoning blend

I suggest a no or low salt one such as Mrs. Dash or Spike, due to the high sodium content already in the ham.

2

pounds

Ham

ground, fully cooked

¼

cup

diced sweet onion

**Optional
Pineapple Glaze
⅓

cup

Packed brown sugar

¼

cup

apple cider vinegar

½

teaspoon

ground dry mustard

½

cup

crushed pineapple

2

tablespoons

Water
Instructions
Preheat oven to 350 degrees F.

Place ham in food processor and grind for approximately one minute (or use a meat grinder). Put the ground meat in a large mixing bowl.

Lightly beat the eggs in a small bowl. Then in the large bowl combine eggs, bread crumbs, milk, pepper and dry seasoning blend with the ground ham and mix well.

Shape the ham loaf mixture into a roughly 8 x 4" oval and place into a shallow baking dish or loaf pan.

Bake the large loaf uncovered for 25 minutes.

Combine glaze ingredients and spoon glaze over loaf.

Place loaf back into oven and bake for an additional 35 minutes, basting occasionally with the glaze.

Remove loaf from the oven and allow to cool a bit before putting on serving platter and slicing.
Nutrition
Calories:
411
kcal
|
Carbohydrates:
21
g
|
Protein:
29
g
|
Fat:
23
g
|
Saturated Fat:
9
g
|
Trans Fat:
1
g
|
Cholesterol:
121
mg
|
Sodium:
1454
mg
|
Potassium:
496
mg
|
Fiber:
1
g
|
Sugar:
15
g
|
Vitamin A:
154
IU
|
Vitamin C:
2
mg
|
Calcium:
132
mg
|
Iron:
2
mg