These tips for throwing a Halloween party on a budget are going to keep you from breaking the bank while throwing an amazing party everyone will love.  Halloween is a great time of year to plan a party since there are so many inexpensive ways to do it.  It is also loads of fun since everyone already wants to dress up.
 
Throw a Halloween Party on a Budget

Here are some budget Halloween party tips. A spooky fun party can be put together cheap.
Serve low cost snacks
This is the perfect party to have since almost all of the popular foods are so inexpensive.  Mummy hot dogs, Oreo Eyeballs, popcorn, Witch Broomstick snacks, Vampire Donuts red gelatin and punch are great choices that are super inexpensive.  Food for a Halloween party doesn't have to be fancy, and can easily be affordable for any budget.
Clutter for Decorations
Stacks of old books, newspapers and magazines can all be used as simple décor for a haunted house theme.  A haunted house is often cluttered with half packed boxes and junk randomly stacked around a room.  Add cobwebs for effect.
Free Printables
There are a vast array of invites, cards and labels geared toward Halloween available for free online.  Print off some poison bottle labels and paste them on bottles or glasses to boost the festivity. Halloween coloring pages or a Halloween Cootie Catcher with Jokes can come in handy at kid's parties.
Rags, Torn Clothing or Sheets for Free Decorations
Another easy way to decorate is to add torn or stained sheets on windows to act as curtains.  Gather up old rags, torn clothing and vintage clothing and stack in boxes or around the room to look like a ghost might have left them there to rot.
Dollar Store Items
From the plates and tablecloths to snacks and decorations your local dollar store will have a wide variety of useful items for a budget friendly Halloween party.  Head out to window shop and make a list of the best items like packages of black plates, napkins, tablecloths or streamers.
Make It a Potluck
Asking your friends and family to bring a dish for the party is a great way to save money and still have tons of great food on hand.  Provide the main dish (hot dogs or burgers) and have others bring chips, snacks, desserts and drinks. Better yet, challenge your friends to each bring their creepiest dish.
Play Scary Movies
No need to pay tons for a DJ or entertainment when you can bring out your stack of Halloween themed or scary movies
.  If you have a projector to set them up to play on a large wall in your home or on your garage door it makes it even better. Even if your guests don't really watch the movies, it will add a Halloween atmosphere.
Create a Halloween Playlist
Grab your iPod or laptop and set up a great playlist of the fun spooky Halloween songs
as well as current hits to play while your guests mingle.  You can set up speakers in your home for a great surround sound system that will make you feel like you have a DJ in house.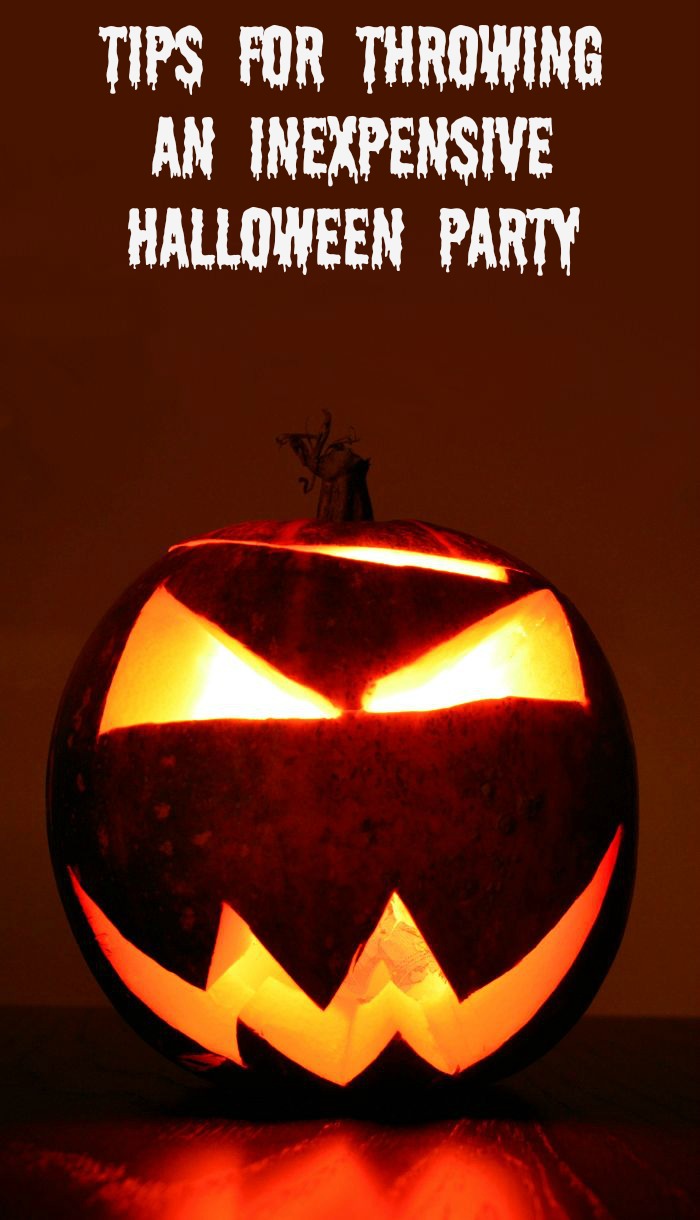 These tips for throwing an inexpensive Halloween party are easy to implement into your party plans this year.  Think outside the box and create a fun filled budget friendly party everyone will talk about for years to come.
More Halloween Party Ideas
DIY Decorations
Halloween Food