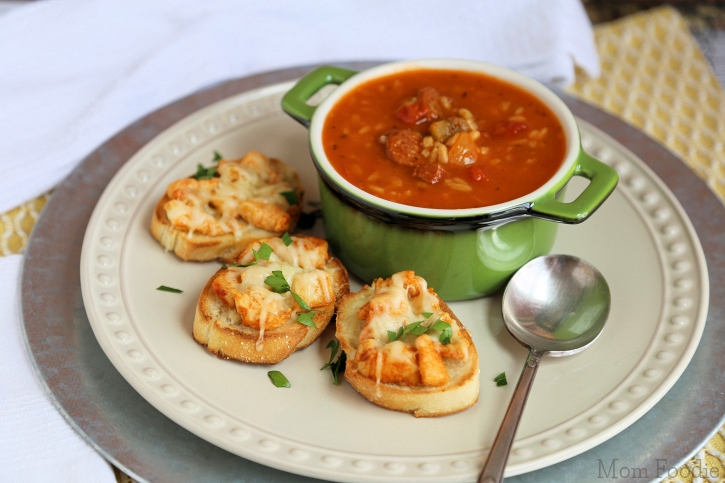 This is a sponsored post written by me on behalf of Campbell Soup Company for IZEA. All opinions are 100% mine.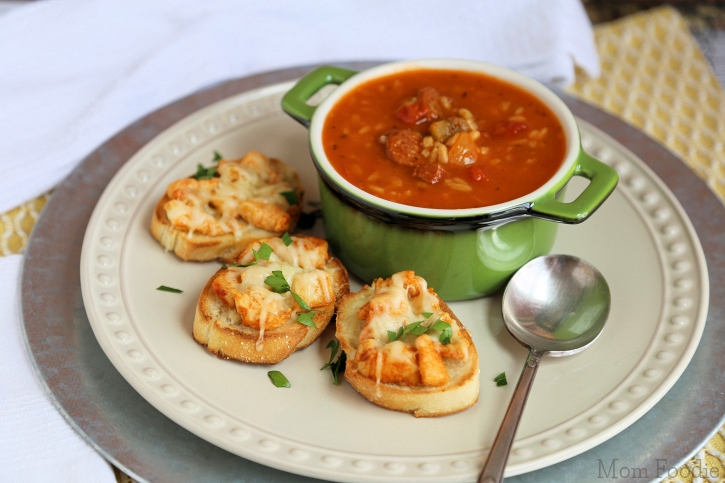 Maybe because of cold weather starting to set in, I have been sort of craving Cajun & Creole food lately. The thing is I have been pretty busy around here, and it is just my daughter and I (and she won't eat it), so making a big pot of jambalaya is just not going to happen any time soon.
This in part is why I was so happy to give Campbell's® Slow Kettle® Style Andouille Sausage Jambalaya Soup with Chicken & Ham a try. Like other Campbell's® Slow Kettle® soups it is made with patience and great chef selected real ingredients, not preservatives. Amazingly, it only takes 1 1/2 – 2 minutes in the microwave to be hot and ready. I enjoyed the soup's rich and flavorful broth, that has just the right amount of spiciness. There is also ample stock in this Jambalaya Soup. To make it into a meal I prepared some quick Cajun Chicken Cheese Toasts to go with the soup.
Cajun Chicken Cheese Toasts
Here is a quick visual walk through of making these easy open face mini-sandwiches. Full recipe below.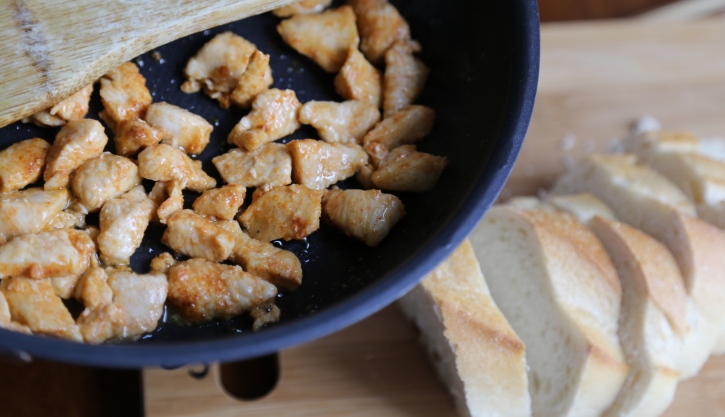 Small pieces of chicken are coated in seasoning, then quickly sauteed in a little olive oil. Half inch slices are cut off a French baguette.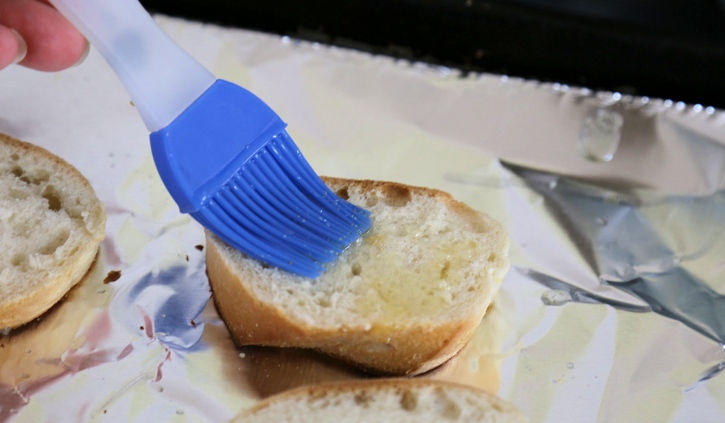 The slices of French bread are basted with garlic oil, and lightly toasted on each side under broiler.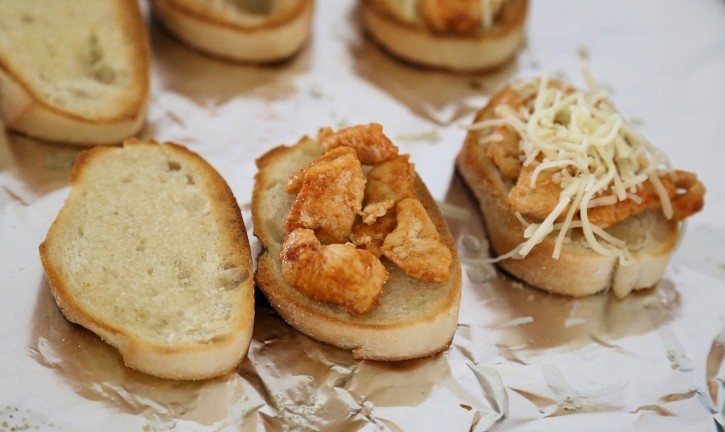 Each slice is topped with Cajun Chicken and shredded cheese, then broiled until cheese is melted.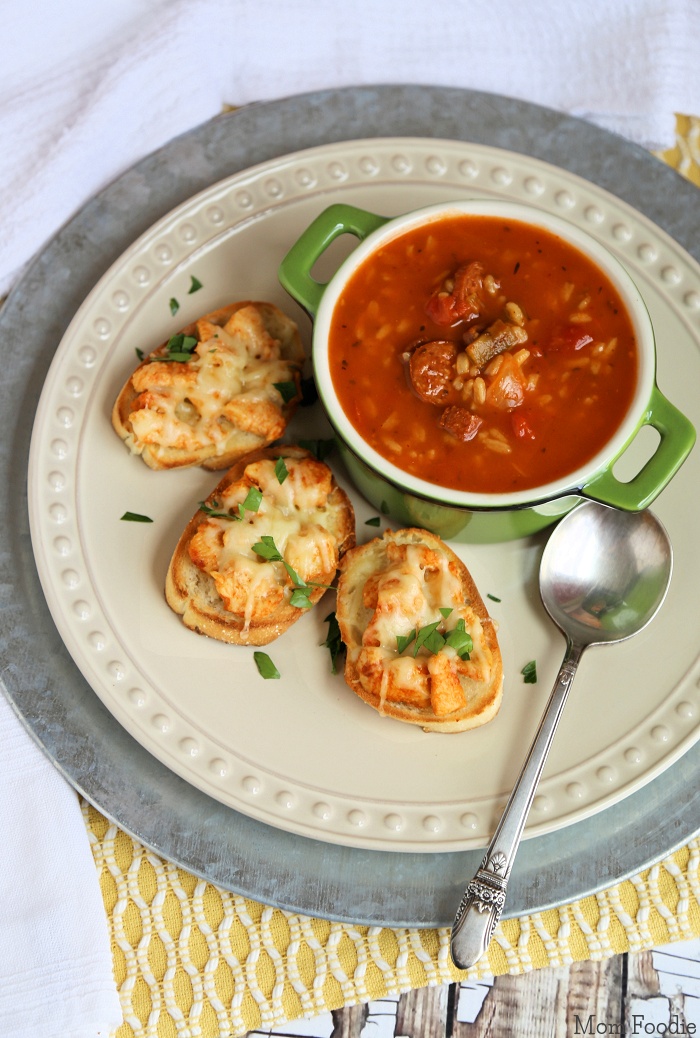 Serve with Campbell's® Slow Kettle® Style Andouille Sausage Jambalaya Soup with Chicken & Ham, and lunch is ready!
Keep on the lookout for Campbell's new products . They have some great things coming out, that fit well with smart eating and busy lifestyles. Following @Campbells on Twitter and on their Facebook page would be an easy way to keep informed. Stop by the website too for delicious Campbell recipes .
Print
Cajun Chicken Cheese Toasts Recipe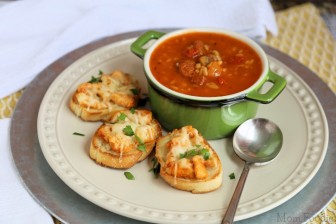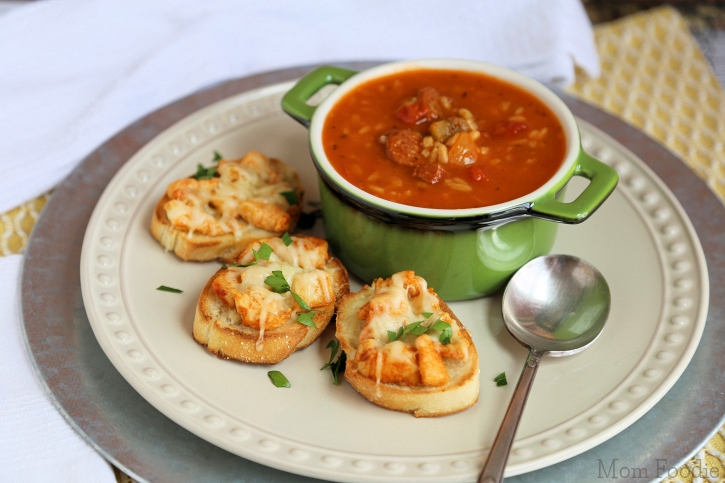 Author:

Robin Gagnon

Prep Time:

6 mins

Cook Time:

9 mins

Total Time:

15 minutes

Yield:

2 servings
Ingredients
4 oz chicken breast
1/4 tsp sea salt
1/4 tsp smoked paprika
1/4 tsp onion powder
1/4 tsp sugar
1/8 tsp cayenne
2 tsp olive oil (1/2 tsp to saute chicken, 1 1/2 tsp to baste bread)
1/4 tsp garlic powder
6 (1/2 ') slices of baguette
1/3 cup shredded cheese (I used an Italian blend)
Instructions
Cut chicken into small pieces (smaller than bite sized).
Mix salt, paprika, onion powder, sugar and cayenne in bowl, then toss the chicken in it.
Turn broiler on high to preheat.
Place 1/2 tsp of olive oil in skillet over med-high heat. Once hot add chicken and quickly saute until cooked through. Set aside.
Baste each side of the the baguette slices, place on foil lined pan and lightly toast each side under broiler.
Top with chicken and shredded cheese then broil until cheese is melted.
Serve with soup to make a meal.